April 27. It was market day in the Basque town of Guernica in northern Spain, a stronghold of Republican rebels engaged in the Spanish civil War against Franco's Nationalists. Without warning, German bombers sent by Hitler to help Franco bombed the town with high explosives and incendiaries. Thousands of civilians who had nothing to do with the fighting were killed. When the bombs had all gone, the bombers returned, strafing the survivors with machine guns.
"There were flames and smoke and grit and the smell of burning human flesh was nauseating," reported a British reporter in Guernica. The horror was also captured in a painting by Picasso. Europe had seen nothing like this since the end of the First World War. Guernica was a foretaste of what was to come. Hitler's pilots and bomb aimers in their Heinkels and Junkers were getting valuable practice for a style of lightning-war (blitzkrieg) which would soon bring terror throughout Europe.
The aim was no longer to win wars by wearing down the other side's army but by demolishing the morale of civilians. But it was a game that both sides could play. Already, British factories were producing a new generation of heavy bombers. At Guernica, Germany sowed the wind. Within a few years it would reap the whirlwind.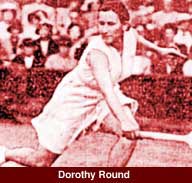 July 3. Dudley tennis ace Dorothy Round scored a second Wimbledon triumph when she beat Jadwiga Jedrzejowska , the Polish champion 6-2, 2-6, 7-5 in the women's singles. Three years earlier she used her tennis talents to beat Helen Jacobs for the women's singles title.
The triumphant player received an ovation from the crowd as she walked off court after a match which lasted about an hour.
The new champion said later: "It is glorious to have won the Wimbledon title once more. The pace was very hot at times, and when it became too hot I simply had to let the ball go.
"I went into court with a tactical plan - but in the heat of the moment I am afraid I forgot all about it." The fine weather brought huge crowds and an overnight queue had formed as soon as the previous day's play had ended.
May 12. King George VI and Queen Elizabeth - now the Queen Mother - were crowned at Westminster Abbey with all the pomp and splendour of time-honoured tradition. People flocked to the occasion from all parts of the Empire. A coach, drawn by eight greys, left Buckingham Palace for the Abbey with four postilions and six footman aboard. The King wore robes of deep red and snow-white ermine.Nearly a month later the former king and now the Duke of Windsor, married Wallis Simpson.
January 19. Margot Fonteyn, the 18-year-old English ballet dancer scored a triumph in her debut in "Giselle" at Sadler's Wells. Fonteyn, partnered by Robert Helpmann as the Prince, drew an expectant house. One critic commented: "Never has there been a more joyous, engaging Giselle." Margot, who was born Peggy Hookham, studied at the Sadler's Wells school.

In brief
April 16. The "Flying Fortress", a new Boeing bomber, was shown for the first time in America.
April 30. In London 30,000 bus workers went on strike.
May 7. In Washington an inquiry was launched into the Hindenburg disaster in which the giant airship exploded in a ball of flame.
June 2. The Derby at Epsom was won for the first time by a woman, Mrs G B Miller, with her horse, Midday Sun.
June 7. Glamorous blonde bombshell, Jean Harlow, the first "sex goddess", died in Los Angeles from a kidney disease at the age of 26.
July 5. Wolverhampton couple, Captain Norman Franklin and his wife Dorothia, prepared to visit the forbidden city of Lhasa in Tibet as guests of the Dalai Lama.
July 7. Wolverhampton's Royal Orphanage was visited by the Duke and Duchess of Gloucester.
August 3. Walsall man, James Craddock, was killed while working in Canada when he was struck by the limb of a tree while sitting eating his lunch under it.
August 9. Birmingham woman, Mrs Clara Williams, aged 62, died from natural causes while on a train bringing her home from a visit to Lourdes.
August 18. While appearing at Wolverhampton Hippodrome Hollywood star Bebe Daniels gave her recipe for keeping happy as "Work and an interest in one's family."
August 9. In Berlin the Nazis expelled The Times correspondent in retaliation for the expulsion of three Germans from Britain.
October 14. Earls Court was the venue for for the first London Motor Show.