May 19: Reports of the war in South Africa dominated the then four-page daily editions of The Express & Star as the new century opened.
In Wolverhampton subscriptions of more than 3,700 were reported for two funds opened to support the war effort and local yeomanry going to the front. A fund in Dudley quickly raised 700 to support the families of 60 reservists and 40 militia at the front.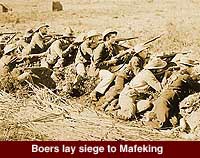 The relief of Ladysmith on March 1 resulted in wild celebrations across the Black Country.
Thomas Parker, Wednesfield Road, sent all 900 workers on immediate holiday and whistles were sounded at factories and church bells rung. On May 19 the Express & Star announced "Gallant Little Mafeking Relieved at Last" and even wilder celebrations broke out.
Crowds filled Wolverhampton town centre with singing in Queen Square and the bells of St Peter's Church rang through the night. Torchlit processions were organised in Dudley and Wolverhampton and street celebrations were also reported in West Bromwich, Stourbridge, Walsall and Stafford.
March 27: Hundreds of curious people cycled from Wolverhampton to Tansley, near Bridgnorth, after the Express & Star reports a sensational fire at the Boar's Head pub.
At first the new landlord and his wife were both thought to have perished in the blaze, but then the husband Francis James turned up alive and was charged with the murder of his wife, Frances.
Gruesome souvenirs of the incident were taken away by some of the sightseers.
But on April 3 Francis James was freed at a court sitting at Bridgnorth Town Hall when the police were unable to produce sufficient evidence.
September 14: A sad day for Wolverhampton as the Express & Star reported the death of the town's mayor and chief magistrate Alderman S Theodore Mander at the age of just 47.
The Mayor had fallen ill in August while on holiday in Llangollen. An abscess was found on Alderman Mander's liver and lung. He had an operation but died while recovering at his home, Wightwick Manor.
His death came just weeks after the celebrations in Wolverhampton for the visit of the Duke and Duchess of Kent on July 23 - the first official Royal visit to the town since Queen Victoria unveiled a statue of her her late husband Prince Albert in 1866.