August 9: The coronation of the new king, Edward VII, took place in Westminster Abbey. The ceremony had been delayed from June 26 due to the ill health of the king who underwent an appendix operation.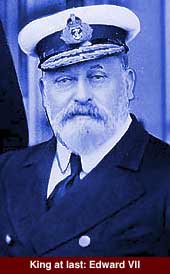 The brightness of the military parade through London was a little dimmed by the order that all troops on parade should wear overcoats. Booming of guns, clanging of bells and cheering of the masses greeted the king and his queen, Alexandra, as they emerged from the abbey to take to the state coach. A free celebration banquet was organised to serve 500,000 poor people.
October 16. Prime Minister Arthur Balfour came close to being injured when violence erupted on the floor of the House of Commons. The issue, not for the first time and certainly not for the last, was Ireland. Still part of the United Kingdom and yet seething with fury, Ireland felt betrayed over the promise of Home Rule which Parliament had long dangled in its face and repeatedly snatched away.
In the Commons, Mr Balfour infuriated Irish MPs when he declared that it was not desirable nor necessary to debate the condition of Ireland during the present sitting. One Irish member leapt forward, broke free of colleagues trying to restrain him and shook his fists in the face of the prime minister. Although the incident blew over, it was a sobering reminder of the long-running Irish problem.

In brief
July 1.
Wolverhampton Art and Industrial Exhibition had so far attracted 474,419 visitors.
August 3.
The first parcel mail from Britain to America sailed on the ocean liner Teutonic.
August 5.
Walsall magistrates ordered Arthur Batchelor of Borneo Street to have his child vaccinated within 14 days. Mr Batchelor said he considered the new Vaccination Act "an injustice and an insult."
October 4.
Oldbury. Richard Hall of Tat Bank Road, charged with murdering his wife with a hammer. Horrified locals flocked to the murder scene.
October 26.
West Bromwich Board of Guardians reported that the cost of caring for paupers in the town had fallen by "a most satisfactory" one penny per head. November 8.
December 12.
Wolverhampton Council heard that outside boroughs were eager to follow its example in "the housing of the working classes."