December 4. The American boxer Jack Johnson made history by becoming the first black to hold the world heavyweight championship. He knocked out the reigning champion, Canadian Tommy Burns - and delivered a body blow, too, to America's deeply racist sporting community.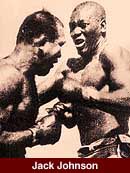 Although he turned pro 11 years before his big win, Johnson had repeatedly encountered discrimination and even been denied purses. However, a bizarre turn of events gave the black boxer the last laugh, and enduring fame. During the First World War, British troops were especially wary of a heavy-calibre German shell which delivered a huge punch and burst with a big cloud of black smoke. It was promptly nicknamed "the Jack Johnson".
April 7. Herbert Asquith became the Liberal Prime Minister following the resignation of Sir Henry Campbell-Bannerman due to ill health. The new Prime Minister appointed Winston Churchill, then a Liberal MP, to his first cabinet.
August 12. In Detroit, the Ford Motor Company unveiled something called the Model T. It looked awkward and angular but this was the car that would become the world's favourite, selling more than 16 million. "You can have it in any colour, so long as it's black," said Henry Ford. He wasn't joking. In its early days, the Model T came in that colour because black was the only paint that dried quickly enough to keep up with production.
April 1. The Territorial Force, later known as the Territorial Army, was launched by the war secretary Lord Haldane. With a huge navy to defend her, Britain had never needed a big, continental-style army. Haldane's job was to ensure that the small, but highly professional, British Army could be quickly reinforced in time of war. His solution was to bring together all the old county militias and yeomanry regiments and to create new brigades of "weekend warriors."
August 31. An old cricketer left the crease - the legendary Dr W G Grace retired from first-class cricket at the age of 60. The majestically-bearded former England and Gloucestershire captain, an intimidating 6ft 2in and 16 stone, had scored over 54,000 runs. He had played for England until he was past 50.

In brief
April 25.
Wolverhampton Wanderers beat Newcastle United 3-1 in the FA Cup final.
July 1.
West Bromwich Town Council considered installing "swings and other things" to amuse children following a spate of stone-throwing incidents in Dartmouth Park.
July 24.
Mr W H Ilee of Stourbridge was presented with a Royal Humane Society award for saving a child in the river at Lye. The medal was pinned on "amid enthusiastic cheers," reported the Express & Star.
October 9.
"Discontent and rumour" reported among miners in Pelsall concerned at alleged mismanagement of their union.
October 22.
Walsall Education Committee heard that the school nurse had inspected 9,884 children during the year, discovering cases of lice, ringworm and other vermin.
December 8.
Wolverhampton. Builders reported "excellent progress" on the Queen-Square improvement scheme.