October 20. An Italian army, 13,000 strong, landed at Tripoli and Benghazi with the aim of driving the Turkish occupiers out of Libya.
Two far-reaching forces were at work. The first was the desire of Italy to establish an empire for itself in competition with those of France and Germany. North Africa seemed ripe for the plucking. The second factor was the steady waning of Turkish power which had held sway over this region and the Balkans for centuries.
The Turkish garrisons were outnumbered and outgunned by the Italian expeditionary force and its gunships, but fought back hard. Even when the odds were against him "Johnny Turk" was a hard, brave enemy, as the British were to discover five years later in the ill-fated Dardanelles campaign.
With Italy officially at war with Turkey, the desire to throw off Turkish rule spread. Albanian rebels took up arms against the Turks in April, 1910. But it was a bloody contest. Every uprising was put down with appalling savagery; massacres and mutilation were commonplace. In the Balkans, it was a legacy of blood which endures to this day.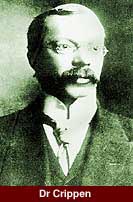 July 31. Wireless was used for the first time in a murder hunt as the poisoner Dr Hawley Harvey Crippen was arrested at sea.
American-born Dr Crippen and his mistress Ethel le Neve fled for Canada on board the SS Montrose after he poisoned his wife Belle and buried parts of her in the cellar of their home in London. The captain of the ship became suspicious of the mild-mannered Dr Crippen and le Neve, who was disguised as a boy and posing as his son, and radioed London. Dr Crippen was hanged on November 23 after being convicted at his trial in September.
January 18. The Prime Minister Herbert Asquith hung on to power in the General Election as his Liberal Party won an equal number of seats with the Tories. The support of 42 Labour and 82 Irish Nationalist MPs kept Asquith in power.
The debate over the 1909 budget remained unresolved and uncertainty continued with a second General Election called in December. Again the election was a dead heat with Liberals and Tories both winning 272 seats - Asquith continued as Prime Minister.
January 18. First sighting of Halley's Comet on its 1910 visit. All over Britain amateur photographers tried to snap the comet as it passed over Britain. In older, more superstitious times, comets were seen as omens of ill fortune. By 1910, comets were well understood and superstition had been banished by science. What no-one knew was that barely five years after this spectacular appearance, the nations admiring it would be plunged into war.
May 21: The funeral of King Edward VII at Windsor followed two weeks after the monarch's death from pneumonia. Edward VII's son George V took his oath as king on May 7.