June 14. The suffragette campaign got its first martyr. Emily Davison threw herself under the hooves of King Edward's horse, Anmer, at the Derby and suffered fatal injuries.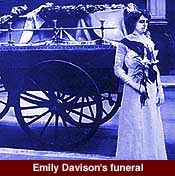 Miss Davison was a veteran of the fight for women's votes, having been jailed and force-fed several times. At the time, her sacrifice horrified her opponents but inspired her supporters. Tens of thousands lines the streets of London as her coffin was borne past on its way to her final resting place in Northumberland.
January 23. A coup d'etat in Constantinople brought down the Government of the Turkish Grand Vizier Kiamil Pasha. The revolt by the reformist and strongly nationalist Young Turks put their leader Enver Bey in power.
March 18. King George I of Greece was assasinated at Salonika just days before his golden jubilee as sovereign. The 68-year-old monarch was shot through the heart while on a walk with an aide. The town had been captured from the Turks in November. The king was succeeded by his 44-year-old son Constantine I.
October 10. The blowing up of the Gamboa Dyke effectively connected the Pacific and Atlantic oceans. The explosives were fired by President Wilson, 4,000 miles away, by an electric button on his desk in the White House. The Panama Canal, one of the greatest civil engineering feats in history, was complete.
March 28. The Morris Oxford went on sale at a cool £175. Although far beyond the reach of ordinary working families, this Oxford was the first of a series bearing the same name which soon became more affordable.
February 27. In New York, passers-by gazed in wonder at the world tallest building. The newly finished 60-storey Chrysler Building was modelled on the gothic architecture of Europe and set the standard for skyscrapers everywhere.

In brief
January 11.
Snow created "a mild catastrophe" for English football with 16 our of 32 cup matches cancelled and no play at Molineux or the Hawthorns.
February 1.
A meeting of Brewood and District Agricultural Society was told of a "momentous deficit in horseflesh," with horses being in short supply, especially for military service.
April 7.
For a prank, six lads in Dudley filled an old Russia cannon with gunpowder and fired it. The rumour quickly spread that the suffragettes had blown up Dudley Castle.
April 19.
Aston Villa beat Sunderland 1-0 to win the FA Cup final.
August 2.
The millenary celebration to mark 1,000 years of history at Stafford was hailed a great success. Crowds went away from the fancy-dress pageant "exceedingly pleased with what they had witnessed."