April 26. British, French, Australian, and New Zealand forces invaded the Gallipoli peninsula in souther Turkey. The plan, promoted by Winston Churchill, was to break the deadlock on the Western Front in France where the Germans had launched the first poison-gas attacks of the war, by striking at the soft underbelly of Germany's ally, Turkey.
But the underbelly turned out to be a tough old gut. The Allies' "secret" attack was well known in advance and troops were mown down in their thousands. The Lancashire Fusiliers suffered terribly but won immortal glory by winning "six VCs before breakfast."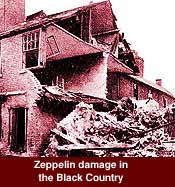 January 19. A German Zeppelin crossed the British coast to drop bombs on Great Yarmouth and King's Lynn. About 20 people were killed, including a small boy and his sister who perished when a line of cottages took a direct hit. Until this night the British public believed that wars were something that involved armies on battlefields far away. It was a huge shock to find the terror of warfare suddenly arriving from the skies.
May 7. The liner Lusitania was sunk by a German submarine off Ireland. Although the Germans argued that the liner was loaded with war munitions, nothing could excuse the slaughter of 1,198 innocents. The death toll included 124 American citizens and the outrage tipped America closer towards joining the war against Germany.
April 23. From Greece came news that Rupert Brooke had died, aged 27, while on active service.The young poet died of blood poisoning and was buried on the island of Skyros. He left behind some of the best loved poetry of the early days of the war.
Despite the growing popularity of Charlie Chaplin, notably in his new film, The Tramp, a survey among British cinemagoers showed that Mary Pickford and William S Hart were both more popular.

In brief
January 2.
Town Clerk of Wolverhampton Horatio Brevitt was knighted in the New Year's honours.
March 8.
Fining a Bloxwich man for drunkenness, the Walsall magistrate, Mr Gill, suggested that big wages paid to munitions workers were to blame: "You are getting too much money, like some of the rest of them."
May 1.
Five VCs are awarded to officers with the Worcestershire Regiment following the battle of Neuve Chapelle.
June 12.
Councillor S K Slater suggests handing the derelict landscape of Coseley over to the Afforestation Society to create "a new Arcadia."
October 2.
Dudley Council protested that 2,000 children allowed to go hop-picking in the summer holidays had not yet been released by the growers to return to school.