July 18. A new battle began. Officially it is known as the Third Battle of Ypres. But it passed into history as Passchendaele, the name of the tiny Belgian village captured by Canadian soldiers on November 6 after four nightmarish months. By that time it was little more than a stain of brickdust among the mud.
The aim, as always, was to smash a hole in the German defences. It began promisingly enough as British guns laid a barrage of more than four million shells. But the shells destroyed not only German trenches; they ripped apart the ancient drainage system. It began raining on July 31, the day the British infantry advanced. Soon the low-lying Flanders plain was a sea of mud in which many wounded or overburdened men simply drowned.
The fighting was dominated by vast concrete emplacements whose machine guns took a terrible toll on the attacking British. But by this stage of the war the generals were doing the numbers game. The Allies had 14 million soldiers, Germany and her allies nine million. If we merely killed each other at the same rate, we would win.
This grisly equation may have been true. Although 300,000 Britons perished at Passchendaele, German losses were equally horrific. A stunned German parliament talked of making peace. But the Kaiser's military bosses insisted on one more attack.
November 9. In the Balfour Declaration, Britain declared that it would play its part in setting up a Jewish homeland in Palestine. For Jews scattered around the world and often persecuted, the promise of a new Israel was the fulfilment of a 2,000-year dream.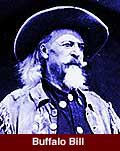 January 10. William F Cody, better known as Buffalo Bill, died. He had made his name providing meat for railway workers across the vast plains of the United States. But when that work was over, he became the ultimate showman, presenting his wild West Show across America and Europe, with some dazzling performances in the Black Country.
April 6. The United States declared war on Germany. Only a few years previously, American involvement in a European war would have been unthinkable. But even pro-German Americans were horrified at the Kaiser's order for German U-boats to sink all shipping at will, including hospital ships.
November 6. The cruiser Aurora fired a single shell from her berth on the River Neva and the Bolshevik revolution began in Petrograd (St Petersburg).