April 26. The Duke of York and Lady Elizabeth Bowes-Lyon were married at Westminster Abbey.
She was said to be smiling nervously as she left her family's London home for the wedding and there had been much media speculation about her dress.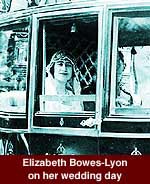 What no-one could have guessed was that the shy, retiring Duke with an embarrassing stutter, would become king, following the 1936 Abdication Crisis, and his bride would become, as Queen Elizabeth the Queen Mother, Britain's best-loved granny.
April 28. A policeman on a lone white horse was the unexpected hero of the first FA Cup final to be played at the newly-opened Wembley Stadium. A huge crowd turned up with 126,047 the official attendance, but another 70,000 were thought to have squeezed in. Only the action of the mounted police enabled the match between West Ham and Bolton to go ahead.
November 12. Adolf Hitler led a group of men into a beerkeller in Munich, leaped on to a table, fired a shot into the air and declared: "The national revolution has begun." His newly-formed National Socialist (Nazi) party demanded a dictatorship to run Germany. Although few took him seriously at the time, his brand of fascism was gaining widespread support in a Germany reeling under the burden of multi-million-dollar reparations for the First World War.
April 14. In Houston, Texas, a couple danced continuously for more than 40 hours. No-one knew where the marathon-dancing craze began, but the lure was prize money. All over the United States, would-be winners were collapsing on the dance floor. In Baltimore police stopped one marathon that had been going on for 53 hours.
May 8. At Bath, cricketer Jack Hobbs became only the third player ever to knock up 100 centuries. Only the legendary W. G. Grace and Tom Hayward had previously achieved this feat.

In brief
January 15.
Staffordshire Infirmary, facing a deficit of 2,000, appealed for donations from local companies.
February 10.
A report proposed increasing the pay of Wolverhampton's town clerk. He was on 1,000 a year, only 50 more than his predecessor, 18 years earlier.
May 26.
New telephone exchanges were planned for Wombourne and Brewood while the Wolverhampton to Birmingham phone service was being improved by means of a new underground cable.
October 16.
Magistrates imposed a 4 fine on the landlord of the Foxyards Inn, Coseley, for "permitting drunkenness on his premises." The case followed a fatal punch-up and a manslaughter conviction.
October 20.
Bus driver John Ellis of Lichfield retired, aged 71. He had covered 339,000 miles in his 56-year career, but never seen the sea.