January 1. The Charleston, the dance that scandalised America, took Britain by storm. It began as a rebellion against the staid, stuffy ballroom dancing of earlier years but developed into a social phenomenon.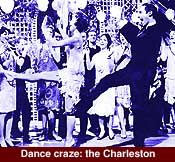 The old order was changing. Jazz and ragtime music was all the rage. The traditional image of studious, stiflingly-respectable womanhood was kicked out. Young women loved it because they could be themselves. Men loved it because they could see the girls' legs in daringly short skirts.
The writer George Bernard Shaw praised the new shorter hemlines as being "for real human beings rather than upholstered Victorian angels."
Catholic bishops in Italy were not so impressed. Women deemed to be scantily dressed were banned from churches.
It was the age of the flapper, wild young things who wanted to party. And as with every other fad, there were plenty of critics eager to warn of catastrophe. Some specialists even predicted that girls who danced the Charleston could damage their pelvises, making them unable to bear children.
July 21. At the end of the famous "Monkey Trial" in Tennessee, biology teacher John Scopes was fined $100 after being found guilty of teaching Darwin's evolution theory to America's schoolchildren.
The judge in the trial moved the hearing to the gardens outside the courthouse because so many people were trying to force themselves into the building the courthouse was in danger of collapse..
The streets were filled with hundreds of religious fundamentalists who cheered, sang hymns and prayed as the jury handed in its verdict after Darwin's theory that humans were descended from monkeys was ridiculed in court.
The famous attorney, Clarence Darrow, led the defence.
September 29. In a bid to cut accidents the Ministry of Transport decided to paint white traffic lines on roads across Britain. The plan was to split streams of traffic at intersections or on dangerous bends .
And the famous London landmark. Piccadilly, was given the green light as plans were drawn up for traffic lights to give an uninterrupted flow past several crossroads at a time.
There were also worries that the 1925 Motor Show at Olympia would result in a surge of new cars on the roads. With no motor show in Paris that year, Olympia was viewed as the the focal point of an international industry.
November 11. Howard Carter and his team of experts caused great excitement at Luxor, Egypt, as three years of painstaking work hit its climax when Tutankhamun's mummified body was unwound.
Their investigations showed that the boy king was about 15 when he died and as the bandages were removed, 143 items of gold and jewelled ornaments were revealed.
The toes and fingers of the teenage king were protected by golf stalls - and his head lay under a gold mask which Carter believed was a perfect portrait of the face just before death.
November 20. The widow of King Edward VII died at Sandringham. Queen Alexandra was born one of two beautiful Danish princesses - the other ended up as Empress of Russia. Alexandra was welcomed to Britain with a poem by Tennyson.
Noted for her generosity, the Queen thought nothing of giving away family heirlooms to friends. The King, her son , would send Lord Esher, a man of impeccable tact, to get them back. Alexandra also loved to live among vases of roses.