May 3. Following a national coal strike over the threat of a cut in wages, the TUC voted to back the miners and Britain was plunged into its first General Strike.
The workers' resentment was understandable. While fighting in the trenches, they had been promised "a land fit for heroes."
But post-war Britain was a wretched place. Many millions lived in appalling conditions, unemployment was rife and employees had few rights. Some believed that nothing short of a Soviet-style revolution would make things better.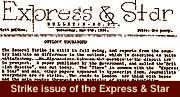 The General Strike bitterly divided Britain. Troops were called in to run trains and keep the docks open, assisted by thousands of eager volunteers, including many students.
Fleet Street came to a standstill but a few newspapers, including Winston Churchill's British Gazette and the Express & Star, managed to keep going in some form.
Despite dark fears of violent upheaval, violence was small-scale and isolated. After nine days, with neither the cash nor the will to carry on, the TUC called off the strike leaving the miners to struggle on through a six-month dispute before they agreed to work longer hours
January 27. The heads of two ventriloquist dolls heralded the advent of television when inventor, John Logie Baird, showed how moving pictures could be created with a new machine that transmitted flickering images through radio technology.
The communications breakthrough came in a darkened room in London's Soho where members of the Royal Institution peered at the oblong of light which was barely bigger than a visiting card.
The dolls' heads, the first image to be "televised", were crude and nowhere near the quality of the moving pictures being screened by cinemas of the time - but the principle of television was proved by the father of the small screen. Baird believed that his invention would one day turn every home into a cinema.
October 31. The great showman and escapologist Harry Houdini finally lost his life-long game of dicing with death when he passed away in a Detroit Hospital from peritonitis. He had boasted to a class of students that his stomach muscles could withstand powerful punches and invited one to punch him. But the student hit him twice when he was off-guard just above the appendix, putting him in great pain. Doctors removed the appendix but it was too late to save the flamboyant star.
Houdini achieved an international reputation with his ability to escape, chained and handcuffed, from a milk churn filled with water. His most famous stunt was being suspended upside-down, high in the air, manacled and trussed up in a straight-jacket. His daredevil escapes always thrilled the crowd. The master-escaper was also fascinated by spiritualism and exposed many a fake medium.
October 1. Veteran long-distance pilot, Alan Cobham, made aviation history when he landed his sea-plane on the Thames at Westminster.
He completed his record 28,000-mile round-trip to Australia in 93 days.
Both banks of the river were packed by thousands of admirers of the pilot who, earlier in the year, flew to Cape Town and back, returning home in triumph.
It took his De Havilland 50 biplane 29 days each way on the journey across Europe to the Middle East , India and the Dutch East Indies.
August 23. News of the death of the great silent screen lover Rudolf Valentino devastated his vast army of fans. One was reported to have been so upset she shot herself.
The handsome star of such silent greats as "The Sheikh" and "Blood and Sand", was only 31 when he died. He had been in a New York hospital suffering from a ruptured appendix and then a gastric ulcer which caused complications which killed the star. Fans queued to pay homage to their idol who arrived in the USA in 1913 and went on to achieve film stardom.