September 30. A mould which appeared to attack the germs responsible for infections was discovered by the British scientist, Professor Alexander Fleming.
Like so many revolutionary discoveries, it happened almost by accident. Fleming left a dish of bacteria on a bench in his laboratory.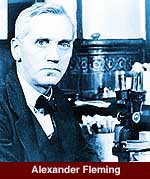 When he looked again, a mould had not only contaminated the sample but wiped out part of the staphylococcus bacteria.
Although Fleming was cautious in announcing a medical miracle, it seemed that this mould, later identified as Penicillium notatum, had the power to kill a range of infectious agents.
First it was necessary to isolate the active part of the mould,a process which could take years. But in due course a new drug, penicillin, would be available to deal with infections that had previously proved fatal.
The first results were little less than miraculous. The age of antibiotics had arrived.
January 6. Fourteen people, including four sisters, were drowned when the Thames burst its banks, flooding lower-lying districts of London.
Hundreds more were made homeless along the length of Old Father Thames and the vaults of the Palace of Westminster were flooded. The normally dry moat of the Tower of London filled up in the floods and 12 Landseer paintings were badly damaged at the Tate Gallery.
The disaster was caused by a much-feared combination of a sudden thaw and a high tide.
November 29. Analysts discovered that a traffic boom was causing deaths on Britain's roads to soar - and the commonest offender was the private car.
During one three-month period there were 309 deaths on the streets of London bringing the year's total accidents so far to 872.
This averaged two more accidents every week more than than the previous year.
In Paris, the prefect of police claimed 61 per cent of street accident were due to the carelessness of the victims.
June 18. American aviator, Amelia Earhart, became the first woman to fly the Atlantic when she left Newfoundland in her seaplane and battled her way through terrible weather across the ocean to arrive near Llanelli the day after take-off.
The daring aviator's fuel was so low she had to throw out equipment to stay airborne. Miss Earhart and her two male companions had no idea where they were when they came down - they had hoped to reach Southampton.
October 10. A blitz was launched in New York's "speakeasies" after it was found that bootlegged whisky, contaminated with wood alcohol, had killed 518 people in this year so far.
The move followed a series of police raids on illicit drinking dens in which 21 barmen were arrested.
Mayor, Jimmy Walker, announced that "speakeasy" owners would face murder charges if their illegal "hooch" was found to be poisonous.
Prohibition had been in force for nine years and was promoting gangsterism.