September 15. Germany and the rest of the world was stunned by the unexpected success of Adolf Hitler's Nazi party in the elections. The Nazis had only 12 seats in the old Reichstag. Suddenly they gained 107 seats, becoming the second largest party behind the socialists.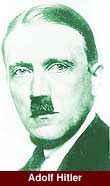 In 1928 Hitler polled just 800,000 votes. Two years later he got nearly 6,500,000. Things were moving his way in a Germany still being punished by France which had been demanding full reparations for the 1914-18 war. Hitler's promise is simple and appealing. In return for hard work and the loyalty of the German people, he will restore the nation's pride. In his speeches he makes ferocious attacks on Jews and Bolsheviks.
Later in the year the Nazis are triumphant in the local elections at Bremen. In the same year, French troops occupying the western part of Germany known as the Rhineland withdraw, five years before the date set in the Versailles Treaty.
Within that five years Hitler will have marched his troops into the Rhineland, partly to see how Britain and France react. The road to war starts here.
March 17. More than 300 films were sent back for changes or rejected outright by the British Board of Film Censors, unhappy about their "sordid" themes.
The censors objected to coarse speech, women being drunk, marital infidelity and criminals shown as affluent or apparently successful.
February 22. High powered millionaire newspaper tycoon, Lord Beaverbrook, launched the United Empire Party in collaboration with fellow Press baron, Lord Rothermere.
He was also supported by people in the Tory Party who had become increasingly critical of Mr Baldwin over the previous year's Tory election debacle and the current feeble resistance to Labour in office.
The new Party was ridiculed by Conservative chiefs as another frivolity in Beaverbrook's erratic career.
June 30. Women turned London's Serpentine into a blaze of colour when they abandoned the discreet black bathing suits of yesteryear and took the plunge in brightly coloured costumes.
The occasion was the opening of the Hyde Park Lido for mixed bathing - and one woman queued for 11 hours to make sure she was the first to take a dip.
People feared the bright hues may lead to accusations of immodesty. But at least skirts were back below the knee.
Leviathan of the skies but it was a short life and a spectacular demise for the R101
October 4. The world's biggest airship - the British R.101 - exploded in a ball of flame as she hit a French hillside shortly after setting out on her debut flight to India.
The disaster, near Beauvais, claimed the lives of 44 people including the Air Secretary, Lord Thomson. Only eight people survived. The life of one survivor was saved when a water tank burst above his head on impact and drenched him. The airship was built by the privately owned Vickers company.