January. As photographs arrived from the Test Match against Australia in Adelaide, Aussies were outraged and Britons horrified. For they showed the hideously bruised bodies of Australian batsmen who had come up against a new, and ferocious, attack by the England bowlers.
The so-called "Bodyline Tour" threatened to break all cricket relations between the two countries, dominating the headlines even in a Britain ravaged by the Depression and reports of new Japanese savagery in Manchuria.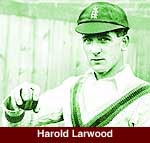 Chief culprit (or hero, depending on your view) was England's Harold Larwood who had developed a style of fast, short-pitched deliveries on the leg side. His rising deliveries, aimed directly at the body, not only took wickets but left the Australians battered and bitter. Australian captain Billy Woodfull took one blow close to the heart.
Outraged, the Australian Cricket Board of Control cabled the MCC in London demanding an end to this dangerous practice.
March 1. Kidnappers climbed into the nursery of Charles Lindbergh's 20-month-old son took him from his cot and left a note on the windowsill demanding a $50,000 ransom. Lindbergh and the the child's nanny made a frantic search of the New Jersey mansion before he told his wife: "Anne, they have stolen our baby."
Few clues were left by the kidnappers. The illiterate ransom note read: "We warn you for making anyding public...the child is in gut care."
The event started the most intensive manhunt in history, with 100,000 officers and civilian volunteers searched along the Eastern seaboard.
August 29. Adolf Hitler was reported to be under heavy pressure to mount a putsch after his attempts to become German Chancellor were frustrated by the Chancellor already in office, Franz von Papen, and President von Hindenburg. The president lectured Hitler on the street violence caused by his Nazi Storm Troopers. Hitler maintained that he would only seek power by legal means.
May 10. The assassination of the French president, Paul Doumer, left the country in a state of national shock. The president had gone from the Elysee Palace to a charity event at the Rothschild Foundation .
As he talked to author, Claude Farrere, a large man pushed through the crowd, pulled out a revolver and started firing' crying: "This is only the beginning." The assassin was disarmed and the president rushed to hospital, but his wounds proved to be fatal. He died 14 hours after being admitted. The gunman was declared insane.
January 6. In India Congress leaders were rounded up following the Government's declaration that the party's Working Committee, often called "Gandhi's Cabinet", was illegal. Gandhi himself had already been arrested but he had prepared himself for jail. He went into prison with a pair of sandals, a mattress, warm clothing and a portable spinning wheel. About 100 of his colleagues were expected to join him.