February 26. Another new-fangled invention was tested for the first time, and worked brilliantly. And thankfully it was British. Radar - short for Radio Detection And Ranging - was the brainchild of Robert Watson-Watt and his colleague A F Watkins. But they were not the first to suspect that radio waves could be used in this way. Their research began when Wilkins recalled a Post Office engineer reporting, in 1931, that aircraft passing overhead seemed to interfere with radio reception.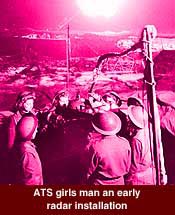 The idea was simple enough. A transmitter beamed a radio signal which bounced off any large object in its path. On February 26 the huge BBC station at Daventry detected a bomber flying at 10,000 feet eight miles away.
It was a modest enough beginning. Soon, radar stations would be able to pick up aircraft formations far from the British coast. The implications were enormous. An air force which knew where the enemy were could concentrate its force to best effect. In only six years' time radar would play a vital, perhaps decisive role in the Battle of Britain, directing British fighter aircraft to attack approaching German bombers.
October 21. Defeated by the Nationalist armies of General Chiang Kai-Shek, the desperate Chinese rebel Communist forces tried to break out of encirclement. With 700,000 troops at their disposal, the Nationalists had sealed off the rebels Kiangsi stronghold with a network of barbed wire and concrete blocks. The rebels, led by a Hunan peasant Mao Tse-Tung, desperately tried to fight their way out.
March 1. The one-time boy emperor of China, Pu Yi, caused wild scenes of nostalgia in Hsinking when he was enthroned by the Japanese masters as "puppet emperor" of conquered Manchuria. The streets were thronged with medal-bedecked soldiers, Mongol cavalry, painted Geishas and Lama priests. At his first court, the new emperor announced: "The Empire of Japan, in the name of righteousness and justice, assisted the establishment of this state. Armed hostilities have ceased."
May 23. The famous Bonnie and Clyde saga was brought to an end in a hail of bullets when the death-dealing duo were killed in an ambush in Louisiana. Minutes later, the bodies of Clyde Barrow and Bonnie Parker were found by Texas Rangers with more than 50 bullets in their lifeless bodies. The couple, who killed at least 12 people, carved a lawless and lethal trail of murder across the south- western states of America, robbing petrol stations, banks and diners. Their killing and robbing spree had lasted for four years.
July 22. The hoodlum named as Public Enemy Number 1, John Dillinger, was gunned down outside a Chicago cinema where he had seen a Clark Gable gangster film. Wanted for 16 murders, daring bank hold-ups and some spectacular prison escapes, Dillinger eluded the law through disguise and invention. The imaginative gangster had a facelift, grew a moustache and even poured acid over his fingertips to wipe out his fingerprints. On one occasion, in an Indiana prison, he smeared a piece of wood with shoe polish and waved the makeshift revolver at guards to aid his escape.

In brief
January 21. In Birmingham Blackshirt leader, Sir Oswald Mosley, spoke to 100,000 people in the biggest rally ever held by the British Union of Fascists.
March 17. The Boat Race was won by Cambridge in a record 18 minutes 3 seconds.
April 7. In Norway, 57 people were feared dead after a cliff crumbled plunging two towns into the sea.
May 3. Another major war by the year 1940 was predicted in New York by British author, H G Wells.
May 16. Despite the misgivings of officials it was announced that women would be allowed to wear shorts at Wimbledon tennis that year.
June 14. Italian, Primo Carnera, was beaten in New York by American, Max Baer, for the world heavyweight boxing title.
July 18. The longest underwater tunnel on the Mersey in Liverpool was opened by The King.
July 30. "The frontier of England is not now the chalk cliffs of Dover but the Rhine," Stanley Baldwin said in London.
August 13. In Birmingham the two-seater "Opal" model of the Austin Seven was launched by Austin.
October 3. The Lichfield Diocesan Conference was told by the bishop that the clergy was breaking down through overwork.
October 17. Wolverhampton barber-jockey, A J Chamberlain, aged 59, who trained more than 100 winners, rode his own horse in the first race of the season at Uttoxeter.
December 14. Wolverhampton Liberal MP Mr G Mander called for a reduction in working hours to 40, without reducing wages.