October 5. German troops marched into the Sudetenland part of Czechoslovakia and the Second World War became inevitable.
Hitler had been making threatening noises about "reclaiming" this German-speaking part of the Czech state for months. The Czechs were prepared to fight and looked to their ally, France, for support. But France, shattered by the First World War, was in no mood for fighting.
The British prime minister, Neville Chamberlain, flew to Munich in September and returned waving an infamous piece of paper and claiming to have secured "peace for our time."
It was no such thing. In getting his slice of Czechoslovakia, Hitler had leap-frogged the Czechs' border defences and acquired valuable weapons factories. The more he got, the more he wanted. In Germany, increasing persecution of the Jews showed the world what Hitler had in mind for the rest of Europe.
Chamberlain's declaration, in March 1938, that Britain would fight for France and Belgium hardly seemed to worry the German dictator.
For Britain, the Munich Crisis bought only a little time to prepare for the coming conflict.
November 9. The horror of Kristallnacht (Crystal Night) was visited upon Jews in Germany as mobs smashed their businesses and set fire to synagogues. For years the Nazis had been harassing the Jews whom Hitler blamed for all Germany's ills. But Kristallnacht was the first large-scale outbreak of violent hostility.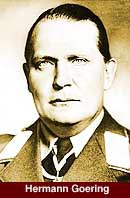 More than 7,000 Jewish shops were looted and an unknown number of Jews were killed.
Until this night many Jews, especially those who proudly wore medal ribbons from the First World War, had convinced themselves that Hitler and his henchmen meant them no real harm.
After Kristallnacht there were no more illusions. Those Jewish families who could not flee from Germany were destined for the concentration camps and gas chambers. "They should have killed more Jews and broken less glass," was the reaction of Hermann Goering, founder of the Gestapo, to the attacks.
June 22. Joe Louis demolished the only man ever to have beaten him in the ring. It was all over in two minutes of the first round. Max Schmeling had knocked out Louis two years previously. But at this re-match in New York, Louis's punching power was awesome.
Schmeling hit the canvas at the end of Louis's fourth, and easiest, title defence. The German died in May 1941. Serving as a German paratrooper, he was captured and later shot when he tried to escape.
September 27. The world's biggest ocean liner was launched at John Brown's yard on the River Clyde. The 80,000-ton Queen Elizabeth almost entered the water unnamed when timbers supporting her gave way and she began too slide too early. Queen Elizabeth (later the Queen Mother) just managed to release the bottle of champagne in time for it to smash against the bows. The mighty liner was not to embark on the glittering transatlantic career planned for her. Within months, as war came, she was given a coat of grey paint for the duration.
August 24. In the final Test at the Oval, England's cricketers were breaking a host of records. Australia was beaten by the unheard-of margin of an innings and 579 runs. For more than 13 hours the Yorkshire batsman Len Hutton dominated the Aussie bowlers, his innings of 364 beating Don Bradman's previous record for an Ashes Test by 30 runs. England declared at 903 for seven.

In brief
January 1. After one of its worst seasons Hednesford Town Football Club said it could not continue without help from"the man in the street." It lost £126 in the previous year.
February 14. British naval base at Singapore was opened.
February 2. A pair of runaway lovers from Dudley, 21-year-old Leonard Merris and Iris Jones, 17, hit the headlines when they were married at Gretna Green.
March 14. Fourteen leading communists were executed after one of Stalin's notorious show trials.
March 30. As war approached, Britain pledged £11 million for new airfields.
May 3. Rowley Regis announced that its 3,000th council house would soon be completed.
May 31. Spelling Bee, screened by the new BBC, became the world's first television game show.
June 1. A Wolverhampton headmistress, Miss W Cordon of Graiseley Senior Girls School, reported that girls in the towns as young as 14 were using make-up "to attract older boys with cars".
June 2. Regent's Park Children's Zoo was opened.
June 9. Whitehall signed a contract to buy 400 aircraft from the United States.
June 13. Wolves president Sir Charles Mander got a laugh by turning up at the club's annual meeting wearing his gas mask. As local chairman of the ARP (Air Raid Precautions), he explained, "I believe in practising what I preach."
July 2. Helen Wills Moody won Wimbledon ladies' singles for the eighth time.
July 15. The Government placed an order for 1,000 Spitfire fighter aircraft.
November 9. The British Government called a conference on the future of Palestine.
December 2. Britain received 206 Jewish schoolchildren expelled by Nazi Germany.
December 21. The Government allocated £200,000 to be spent on air-raid shelters.