September 3. Britain declared war on Germany. It was inevitable. Two days earlier German troops invaded Poland. As Hitler's legions struck from the west, Russia invaded from the east and the two powers carved up Poland between them. Britain had warned that any German attack on the Poles would mean war. Two hours after our declaration of hostilities at 3pm, the French government also declared war on Germany.
In Britain, the mood was quite unlike that of 1914. The carnage of the First World War was still fresh in the memory. This time there was no wild rejoicing and no promises that it would all be over by Christmas. Rather, there was a grim determination to sort out Hitler as quickly as possible. Neither Britain nor France was in any position to go directly to Poland's aid and for the following weeks, many dubbed the European crisis "the phoney war."
Barely a month after the declaration of war, the British Expeditionary Force of 158,000 men and 25,000 vehicles slipped undetected across the Channel to take up positions alongside the French. It was a polished, professional operation and not a single casualty was suffered. RAF fighters and bombers flew across to French airfields in preparation for the blitzkrieg that must surely come.
July 17. Although all eyes were on Poland, it was a year when the enemy within was still busy and the West Midlands was among the targets. The IRA brought violence to British towns and cities, including Wolverhampton. This was the scene at the Low Level station after an IRA bomb exploded.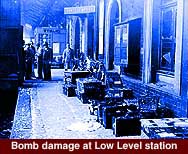 The bomb exploded at 5.33 am. No-one was injured but two GWR employees had lucky escapes. In Coventry, five people were killed in the worst bomb explosion since the IRA began its campaign eight months before.
The bomb exploded in the city's main shopping street just before 2.30pm. Cars were overturned, shopfronts shattered, handbags and children's toys scattered everywhere.
August 30. The evacuation of more than 1.5 million children began leaving Britain's towns and cities strangely silent. Schools were the reception centres for the great exodus with fleets of buses ferrying the youngsters to mainline train stations.
Parents were told to send them off with no more than a change of clothes, toothbrush, comb, handkerchief and enough food for the day. The first three days, during which a million youngsters were moved out, was seen as a triumph of government organisation - not a single child was reported missing or injured. Stories were already coming back of country folk's shock at the verminous state of some of the children from city slums. Many of the townie teenies were similarly unimpressed with their new surroundings.
June 4. Hopes of rescuing 79 men stuck for three days on board a submarine in Liverpool Bay were lost when the vessel sank. The Thetis, the Royal Navy's latest vessel, was being tested at the time. The Navy sent 21 warships to the scene as plans were made to to cut a hole in her hull. Eight men managed to escape, four of them through a hatch, but the crew could not close it again and the vessel slowly filled with water. Everyone else on board, including a civilian trials team, drowned.
August 18. Despite everything, this was a great year for Hollywood with several enduring classics being premiered. The film Wizard of Oz opened in New York, making an overnight star of its leading actress, the 17-year-old Judy Garland. She played Kansas youngster Dorothy who goes off to see the wizard with a scarecrow, tin man and cowardly lion. Garland's rendition of Over The Rainbow was an instant hit. Clark Gable and Vivien Leigh starred in Gone With The Wind, a tale of sweeping romance set against the American Civil War, another major box-office success.

In brief
January 28. Scientists split the atom with the discovery of a new radioactive process - nuclear fission. It was thought possible to use the process to produce weapons of unprecedented power.
February 8. Peers passed the Bastardy Bill, making blood tests compulsory in paternity suits.
February 20. Nylon stockings went on sale for the first time in America at a cost of around five shillings a pair.
March 29. Chamberlain unveiled plans to double the size of the Territorial Army to a total of 340,000 men.
March 30. In New York, Hitler's nephew, William Hitler, called his uncle "a menace".
April 11. Darts were banned in Glasgow pubs because they were considered "too dangerous".
April 29. Wolverhampton Wanderers were beaten 4-1 in the FA Cup Final.
June 26. Public executions were abolished in France.
July 1. Taking advantage of the lack of parking in Wolverhampton town centre, a new 9d-a-mile taxi service was launched in the town aimed at women shoppers.
July 20. Wolverhampton MP Geoffrey Mander told Parliament that Government immigration policy was leaving Jews with no escape from Hitler's Germany other than by illegal immigration to Palestine.
July 27. With war looming, Bilston Town Council said it was unhappy with Staffordshire County Council's plans to deal with air raids and threatened to go it alone.
August 1. Band leader Glen Miller recorded the song In The Mood.
August 18. After the death of seven-year-old Edward Barratt in Bloxwich, deputy coroner J H S Addison calls for all disused pit-shafts in the area to be filled in. Edward drowned after falling into a pit 60 feet deep in water.
November 21. In Berlin, two Britons were arrested for involvement in a failed bomb attempt on Hitler's life.