October 30. A remote Egyptian railway stop called El Alamein passed into history. It was here that Britain's General Bernard Montgomery, universally known as Monty, unleashed his offensive against the German Afrika Korps.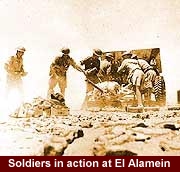 Montgomery was a veteran of the First World War and was haunted by the carnage he had seen as Tommies made fruitless attacks against impregnable positions. At Alamein he waited until he had overwhelming superiority in tanks, aircraft and men.
The battle opened with one of the heaviest artillery bombardments in history. Army engineers crawled forward to uncover mines by hand and British troops and tanks poured through the gaps to take enemy trenches.
The north African campaign involved only a tiny fraction of Hitler's divisions; most were involved in the bitter fighting on the Russian front. Nor was it a pushover. As Monty's attack stalled, the advance demanded enormous sacrifices, particularly among British tanks crews.
But it was a victory which mattered out of all proportion to its tangible gains. Back home, it was the first good news for ages in a year which had seen the fall of the huge British garrison in Singapore and the carnage of the ill-fated Dieppe Raid. And after Alamein, there were no more significant defeats.
As Churchill said of Alamein: "This is not the end. It is not even the beginning of the end. But it is, perhaps, the end of the beginning."
September 2. German SS troops launched a killing campaign in the Jewish ghetto of Warsaw, exterminating 50,000 Jews over the ensuing weeks.
Soldiers bombarded the walled enclave with grenades and flame-throwers as part of the "clearing" operation.
The week before, Himmler had ordered the liquidation of all Jewish ghettoes, an order of huge significance to Poland where there resided more than a quarter of the eight million Jews registered in Europe at the outbreak of war.
Mass starvation had haunted the Polish capital which had been taken by the Germans in 1939. Many Jews had simply died of hunger under the murderous Nazi regime.
In the latest outrage, many Jews refused to be removed to their certain deaths in gas chambers or concentration camps. Instead they chose to die in the ghetto, either staying in their burning homes or jumping from roofs.
February 18. People were urged to use only five inches of hot water in their baths and take fewer of them, leading to the marking of a "plimsoll line" on tubs up and down the country - even, allegedly, those in Buckingham Palace.
Shared baths were also encouraged in this "waste not" regime prompted by the fuel crisis. It was just as well, for soap had been rationed to a bar a month. Only miners escaped the restriction with ration-free soap on tap at their pithead baths.
Shaving soap was unrestricted but, like razor blades, in short supply. People were advised to resharpen their old blades by sliding them around the insides of glass tumblers.Unfortunately, glass tumblers were in even shorter supply. Women were driven to use beetroot juice for lipstick, soot for eye make-up and gravy browning for silk stockings.
March 3. Hemlines went up as fabric rationing hit the fashion industry and dictated trends. The Board of Trade introduced a new utility cloth and fashion became a strictly no-frills business for men as well as women. Out went double-breasted jackets, trouser turn-ups and sleeve buttons. In came utility suits made by authorised tailors for a standard price.Out, too, went embroidery on women's underwear and nightwear.
October 16. Unnecessary travel between Wolverhampton and Birmingham by shoppers was criticised in a report of the Select Committee on National Expenditure. Earlier closing was necessary, said the report, so that both shop assistants and customers could get home before the 5pm rush of factory workers. Other recommendations included publicity campaigns to stress the importance of diverting more traffic from the roads to the railways. A census of factory workers showed evidence of unnecessary travelling particularly between large, industrial towns such as Wolverhampton and Birmingham.