August 6. The Japanese city of Hiroshima was destroyed by an atomic bomb. Three days later, Nagasaki was obliterated by a similar weapon. On August 14, unable to offer any more resistance, Japan surrendered and the Second World War was over.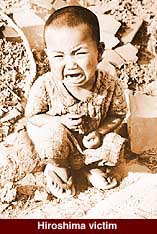 The atom bombs had been developed by British and US scientists working on the top-secret Manhattan Project. Although Japan had already suffered terrible damage from conventional bombs (more people died in Tokyo than Hiroshima), it was the threat of more atom bombs that brought a speedy surrender, and saved the lives of thousands of Allied troops who would otherwise have had to fight for every inch of the Japanese mainland.
May 8. The final surrender of German forces in Europe brought VE-Day. Britain went mad. Crowds thronged the streets of London and other cities. Street parties were held everywhere. It had been a hard-won victory. Great swathes of our major cities lay in ruins. But from the liberated concentration camps of Germany came appalling evidence that Britain had fared well compared with others.
Piles of emaciated bodies and half-dead scraps of humanity cowering behind the barbed wire at Belsen, Buchenwald and other camps was evidence of the "Final Solution" that Hitler had planned for the Jews whom he blamed for all Germany's ills. The true figure of those shot, exterminated in gas chambers, worked to death or killed in sadistic "experiments" will never be known but was probably about six million.
Germany had reaped the whirlwind. The bombing that Hitler inflicted on the rest of Europe was bad enough but it was not in the same league as the day-and-night pounding of German cities by RAF and US heavy bombers. By the end of 1944 a staggering 20 million Germans were homeless as a result of the bombing. In 24 hours of bombing in February 1945, a fire-storm developed in the historic city of Dresden and 130,000 died.
Berlin was overrun by the Red Army in an orgy of rape and retribution. In his bunker beneath the city on April 30, Hitler and his bride Eva Braun committed suicide. To the end he was still blaming everything on a Jewish-Bolshevik conspiracy.
July 26. Labour took power for the first time following a landslide General Election victory. Thirteen Tory Cabinet members lost their seats and the Liberals took a hammering, too. Other nations were astonished that Britain, having revered Churchill through the war years, had booted him out of power so spectacularly.
But this was a generation of voters, including many servicemen still overseas, who had seen their parents promised "a land fit for heroes" after the First World War, only to be betrayed. This time, the people voted for a new sort of Britain as promised by the quietly-spoken new prime minister, Clement Attlee. "We are facing a new era," Attlee told the nation. "Labour can deliver the goods."
June 26. Determined to build a better world, delegates from 50 nations signed the World Security Charter to set up the United Nations. "It provides peace with teeth," declared prime minister of South Africa, General Smuts. US president Truman, too, had high hopes for the UN. But within a few years, events in Berlin and Korea would show that it, like the League of Nations before it, did not have unlimited powers.
June 26. William Joyce, better known as the Nazi propaganda broadcaster Lord Haw Haw, was arrested in a wood near the Danish border. Joyce's sneering broadcasts ("Where is your Ark Royal?") had become as much a part of the Blitz as rations and Anderson shelters. His well-known tones became his downfall. Confronted by a British officer who recognised his voice, Joyce reached for his pocket and was shot in the leg. Irish-born Joyce protested that he was not a British citizen but was put on trial for treason and hanged.

In brief
January 31. Up to 7,000 people perished - the worst loss at sea ever recorded - when the German liner Wilhelm Gustloff was sunk by a Russian submarine in the Baltic.
February 14. Dresden was laid waste in a night and a day of Allied bombing. Estimates of the dead are up to 130,000.
March 25. Allies crossed the Rhine and headed for the heart of Germany.
April 2. The deaths in action of three West Midland army majors were reported on the same day: John Sherren of Hagley, Christopher Budgen of Lichfield, and Wilfred Foster of Shifnal.
April 15. Horrified British troops liberated the concentration camp at Belsen.
April 18. Bilston vicar, the Rev Norman Keen, warns that "wild and disorderly" celebrations on VE-Day would offend the bereaved.
May 8. Victory in Europe (VE) Day.
May 25. The last day of the "German Guilt Exhibition" in Wolverhampton. More than 3,500 people had inspected the gruesome photographs of Nazi atrocities.
June 19. Special trains were laid on to take more than 1,000 evacuees back to the South-East from their wartime homes in the West Midlands.
June 21. After 83 bloody days of fighting, US troops take Okinawa.
June 27. Speaking at Wolverhampton in support of Jennie Lee, the Cannock Labour candidate, the great writer J B Priestley accuses the Conservatives of "carting Churchill around the country, because they have nothing else to cart."
July 26. General Election landslide victory for Labour.
August 14. Japan surrenders.
September 9. First reports reach Britain of wholesale cruelty to PoWs in Japanese camps.
October 14. 43,000 British dock workers were on unofficial strike.
November 20. Hitler's cronies were put in trial for war crimes at Nuremberg.
December 21. General George S. Patton, a hero of the war, died of injuries suffered in a road accident.