July 22. A time-bomb destroyed the King David Hotel in Jerusalem, headquarters of British forces in Palestine.
Britain got the job of governing Palestine after liberating the land from the Turks in 1918. It was a thankless task with both Arabs and Jews demanding the land. Despite pressure from the United States, Britain refuses to allow Jews from Europe, including many liberated from concentration camps, to flood into the Holy Land and create more instability.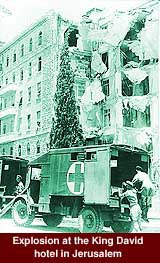 It led to heartbreaking scenes as men, women and children who had survived the worst that Hitler could do were turned back by the boatload. Jewish terrorists began a savage guerilla war against their British rulers.
One of the most ruthless was the Stern Gang, believed responsible for the King David Hotel outrage. It was a well-planned attack. Explosives packed into milk churns were left in the hotel's basement kitchens. The building collapsed like a pack of cards, killing dozens of solders and civilians. Barely a year later, Britain announced that it would pull out of Palestine as soon as possible, whether or not the Jews and Arabs had reached agreement.
February 8. Bananas arrived in Britain for the first time since 1939 amidst great excitement. Considered luxury items, they could not be imported during the war which meant a whole generation of children had never seen an orange or banana. Some tried to eat them skin and all.
The day before, the Food Minister told the Commons rationing would have to return to near wartime levels because of a worldwide food shortage. The amount of wheat in bread was to be reduced, butter and marge rations cut while wartime meat, poultry and egg allocations remained the same. The main problem was the need to feed 30 million Germans whose agricultural industry had been destroyed in the bombing. The ministry issued a range of dietary advice, including a recipe for squirrel pie.
May 3. Pelsall Sanatorium would be closed for a month to allow the overworked nursing staff to take a holiday, an inquiry by Walsall's Medical Officer concluded. But the staff situation at Goscote Isolation Hospital was so bad, it could face permanent closure. Patients at Pelsall would return home for a short period while the staff took a break, said Dr J.A.M Clark. Luckily, he added, he had never known a time when there had been so little infectious disease about. "And it is a very good thing," he stressed. "The staff position is the same at nearly every hospital in the town and the public are going to be taught a severe lesson if they won't allow their daughters to go in for nursing - it is a very serious position."
May 11. It was announced judges would sit through the summer recess to help clear the 50,000 service divorces still outstanding in the courts. The alarming increase in divorce was considered a major social problem. In 1945 there were 25,000 cases, two and a half times the number for 1938. It was clear many relationships had not stood the test of long enforced separations, finding themselves virtual strangers by the end of the war.
More of a problem - about 70 per cent of the current backlog - was adultery, indicating many of those left behind had found new partners. A few months later in the Lords, the Archbishop of Canterbury condemned the three-minute civil marriage ceremony for its "startling brevity".
September 30. The Nuremburg trials reached their climax as 12 leading Nazis were sentenced to death including Ribbentrop, Goering and Hitler's deputy Bormann. Rudolph Hess was sentenced to life imprisonment. Only 10, however, were executed in the prison gymnasium two weeks later. Bormann was believed dead and had been sentenced in his absence while Goering cheated the hangman by committing suicide with a cyanide pill a few hours before. Some looked haggard, others nervous. Some reaffirmed their support for the Nazi cause, a couple called for peace between nations.

In brief
January 17. It was announced "new towns" may be built to ease the post-war housing shortage. They were intended to encourage a sense of culture and civic pride.
March 5. Churchill spoke of an "Iron Curtain" descending across the Continent, warning of a growing Soviet menace.
March 6. France finally recognised the Communist Democratic Republic of Vietnam.
March 9. A total of 33 football fans were killed when steel barriers collapsed at the Bolton Wanderers v Stoke City FA cup tie at Bolton after thousands of supporters broke down fencing to get into a packed enclosure.
April 11. A Wednesfield widow who knitted over 600 pairs of socks for the forces during the war was awarded a Red Cross badge of appreciation.
May 3. An appeal for 3,000 collectors in the Wolverhampton, Dudley and Cannock areas for the 33rd celebration of Alexandra Day was made. It was estimated that 500,000 Alexandra roses and over 1,500 motor garlands would be on sale.
June 6. A special cheese ration was awarded to the brick and tile industry which had no meal facilities at work.
June 6. In Brisbane, a Wolverhampton man admitted having three "wives" in two months, one back home and two in Australia.
July 25. The Americans tested their first nuclear weapons off the island of Bikini Atoll in the Pacific after removing the entire population. Its original inhabitants still want to return.
August 4. The Bing Crosby film, Going My Way, opened at the Gaumont, Birmingham, to rave revues.
September 21. A 59-year-old Hednesford man who had worked in India opening a colliery, died of jungle fever.
October 2. New research linked smoking to cancer.
November 22. A revolutionary new pen which didn't blot, smudge or need to be refilled, went on sale. It was called the Biro, after its Hungarian inventor.
December 18. The House of Commons voted to nationalise the railways, road haulage and the ports. Labour MPs sang The Red Flag as they waited to vote.