August 15. At the stroke of midnight, 163 years of British rule in India came to an end. But the ending of the so-called Raj was to prove a mixed blessing. Even as the last Viceroy, Lord Mountbatten, read a message of goodwill from King George VI, storm clouds were gathering.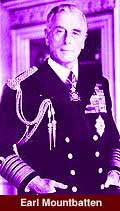 For the old India had ceased to exist. Unable to live together, the sub-continent's Muslim and Hindu populations had demanded separate states; India to be Hindu-dominated, Pakistan to become a Muslim state.
As entire populations moved to their new homes, massacres became commonplace and hundreds of thousands were slaughtered by rival gangs.
In a single incident a month after independence, a train full of Muslims on their way to the safety of Pakistan was attacked by Sikh troops and civilians. More than 1,000 were shot or hacked to death.
The massacres deeply distressed Mahatma Gandhi, the legendary Indian leader who, by a campaign of non-violent civilian disobedience, had done more than anyone else to secure India's freedom from British rule.
January 1. The Labour Government nationalised Britain's 1,500 coal pits but many miners were suspicious of their new bosses. The West Midlands Divisional Coal Board was expected to become the largest landlord in the Midlands - with farms, villages and houses, railway wagons, wharves, pits, shunting engines and lorries as well as 150 collieries under its ownership.
Manny Shinwell, Minister of Fuel, warned the promised five-day-a-week would be difficult to deliver as coal exports were down to almost nothing. Reports were rife of massive absenteeism in the mines and a fuel crisis loomed. Generations of pitmen had struggled for better conditions but were not convinced by the government's new deal.
January 25. Gangster Al Capone died aged 48 in hiding on his Florida estate, a broken man after 11 years in prison. He escaped attempts on his life but was finally caught on a tax evasion charge, suffered syphilis and slid into madness. It was a far cry from his days as head of a thriving $5 million-a-year empire built on prostitution, bootlegging, extortion and gambling.
Born in New York of Italian immigrants, he earned the nickname Scarface while working as a bouncer for a Brooklyn brothel. Driven out of the city on suspicion of murdering a policeman, he went to Chicago and joined mafia gangster Johnny Torrio. In the 1920s gangland war of supremacy, more than 1,000 were wiped out.
November 20. The gloom of post-war Britain was briefly lifted by the fairytale wedding of Princess Elizabeth and Philip, the Duke of Edinburgh, at Westminster Abbey. The madly-cheering crowds were 50 deep in the Mall and along Whitehall. Many had slept out overnight
The bride wore an ivory-coloured dress designed by Norman Hartnell who had taken it to the Palace himself the night before in a 6ft long white box. At the reception at Buckingham Palace, the 500-pound wedding cake was cut with the sword of the groom's grandfather, Prince Louis of Battenburg. The couple first met at her parents' coronation.
May 1. Planners announced the building of 2,600 houses at the model village proposed for the Chasetown district to accommodate Burntwood miners. The homes would be built over 10 years and it was promised the village would not be segregated from the rest of the community. The scheme had been purposely kept quiet until it could be considered by the local authorities concerned. The plan was due to cost the council £3,000 a year.

In brief
January 9. Having decided confetti was too expensive in austere post-war Britain, a Bilston bride-to-be made do by cutting up the Christmas decorations.
February 28. Britain was at a standstill in the big freeze.
March 3. Japan renounced war under its new constitution.
May 8. Henry Gordon Selfridge, founder of the world-famous London store, died
May 16. A plan to submerge West Midland towns by creating a new county, South Staffordshire centring on Birmingham, split the West Midlands.
June 15. Salman Rushdie, author, was born.
June 16. A Wolverhampton shop owner was fined for selling four over-priced articles of women's clothing following the recent introduction of laws restricting retailers' profit margins.
July 9. O.J. Simpson, US football star and alleged murderer, was born.
August 15. India became an independent nation after more than 200 years of British rule.
August 15. Britain's first atomic reactor was set up at Harwell, Oxfordshire.
October 20. Investigation by US House Committee on An-American Activities began probing alleged communist influence in the Hollywood film industry.
October 23. A Quarry Bank vicar told a Lichfield Diocesan Conference he could not make ends met on 430 a year. Referring to the enormous amount of time spent filling in Government forms for his flock, he described himself as an "unpaid civil servant".
November 1. A heckler giving the Fascist salute was escorted from Dudley Town Hall after interrupting a speech by Aneurin Bevan.
November 4. Howard Hughes, inventor and recluse, took off in his Spruce Goose, the largest aeroplane ever built.
November 12. A Wolverhampton clergyman claimed his rambling old vicarage would make flats for three families.