May 2. Wolves returned to their home town in triumph, having won the FA Cup by putting three goals past Leicester at Wembley. Wolverhampton went wild as the cup was borne in triumph to the Town Hall.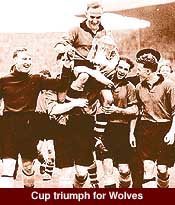 As the Express & Star reporter put it: "I am not ashamed to write that as we travelled in one of the three coaches between the Low Level station and the town hall, it was hard to keep a lump from coming into the throat.
"From the balcony of the town hall, all one could see was the vast sea of faces in every direction, and when the Mayor (Alderman H E Lane) brought Billy Wright, clutching the cup out to face the crowd, there was a roar greater than anything I had heard at Wembley. "The captain introduced his team one by one ('don't expect them to make speeches, they are far too shy')"
July 27. The world's first jet airliner, the De Havilland Comet, made its first flight. Pioneering work by the Midland-educated Frank Whittle had put Britain at the forefront of jet technology and Gloster Meteor fighters had taken part in the closing weeks of the Second World War.
Although America was steadily catching up, the first flight of the Comet was a tremendous boost for a Britain still enduring the austerity of rationing. The airliner, built under conditions of great secrecy, had its first flight at Hatfield in the hands of test pilot Group Captain John Cunningham.
BOAC, the British Overseas Airways Corporation, ordered 16 of the new aircraft and Britain seemed certain to sell its beautifully streamlined Comets around the world. But Comet held two dark secrets. The first was a design fault which led to several disastrous crashes in its early years. The second was the practical problem of maintenance. Those inboard engines looked elegant but when it came to daily repairs, the underwing engines of the rival Boeing jets won hands-down.
Although it was never a commercial success as an airliner, Comet was developed and refined to become Nimrod, one of the most reliable maritime reconnaissance aircraft ever built
May 12. The Berlin Airlift finally came to an end, having saved the German city from starvation under a communist blockade. The airlift had succeeded in forcing the Russians to abandon the 322-day stranglehold on Berlin.
It had been an enormous operation. Berlin needed 2,500 tons of food per day. More than 90,000 take-offs and landings had been recorded by British and US planes which delivered an average of 1.5 tons of supplies every single minute of the siege. The blockade was imposed by the Russians, furious at currency reforms in West Germany which were leading to increased prosperity and showing up the economic failings of the Soviet-occupied East Germany.
June 8. George Orwell published a novel whose chief villain would pass into everyday language. Nineteen Eighty-Four was a bleakly depressing work, set in a Britain of the future where an all-powerful dictatorship manipulated people's thought processes in a grim, post-war world. Orwell, who claimed to be a socialist, insisted that this new work was not an attack on the Labour Party but a warning of where communism could lead. The arch-villain of the book was never revealed but his image gazed down from over billboard and surveillance screen. Big Brother was with us.
March 18. The North Atlantic Treaty Organisation, better known as Nato, was founded. The alliance of eight Western countries declared from the outset that it would not wage an aggressive war against the Soviet Union. Britain's foreign minister Ernest Bevin insisted that the alliance was "purely defensive." Even so, Russia saw Nato as a threat and in the years ahead the arms build-up in the two rival camps of communism and capitalism would cost each side billions of dollars.

In brief
February 3. German Jews protested in Berlin at Alec Guinness's depiction of Fagin in the film Oliver Twist.
March 11. After a brief war, Israel and Jordan called a ceasefire.
April 2. Following protests in Stafford against council rents, Minister of Health Anuerin Bevan agreed to re-examine financial arrangements to provide council houses.
May 23. The Federal Republic of Germany, better known as West Germany, was founded.
June 8. George Orwell's depressing novel, Nineteen Eighty-Four, was published.
June 12. Field Marshal Viscount Montgomery reviewed Staffordshire Territorials at Lichfield and declared: "I wish there were more like you."
July 27. First flight by Comet airliner.
September 2. Four hundred men and women called off an unofficial strike at Joseph Lucas of Birmingham for a 1d per hour pay increase.
September 24. Cannock angler Mr R. Woodall beat 923 rivals to take England's top angling award at a competition in Norfolk.
September 21. Russia tested its first atom bomb.
September 23. Birth of Bruce Springsteen, US musician.
October 1. Mao Tse Tung's communists took power in China.
October 8. Trade unionists in Smethwick called for an investigation into the uneven post-war supply of cigarettes, complaining that Midland folk were victims of "spivs who are duping the working man".
November 26. India's new constitution makes it the world's biggest democracy, with 173 million voters.
December 28. US Air Force concluded an investigation by declaring that there were no such thing as flying saucers.