February 6. King George VI died peacefully in his sleep at Sandringham and was immediately succeeded by his elder daughter, Queen Elizabeth II.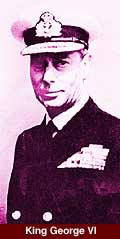 The king was only 56. He had never aspired to be king and had ruled since being unexpectedly thrust on to the throne by the 1936 Abdication Crisis. He was a quiet, modest man who had led his nation steadfastly through the war years.
As his simple oak coffin lay in St George's Chapel, Windsor, more than 300,000 folk filed silently past to pay their last respects. Elizabeth was on holiday in Kenya with her husband, the Duke of Edinburgh, when she learned that her father had died and she had become Queen. She was back in London within hours.
The state funeral contained a moment frozen in time. Three generations of queens, Elizabeth, her mother, also Elizabeth, and old Queen Mary, in black and veiled, awaited the cortege.
There was worldwide fascination with Britain's beautiful young queen and a revival of interest in the first queen of that name. Britons came to regard themselves as "the New Elizabethans."
July 26. She was to spawn a hit musical years later but it was in the summer of 1952 that Eva Peron (Evita) died at the age of 33 of ovarian cancer. The one-time nightclub hostess has had a mixed press since with the descriptions charismatic and corrupt the ones most often applied.
She championed many worthy causes in Argentina and managed to legalise divorce and get the women of her country the vote. But torture and disappearance were also a feature of the regime the first lady and her husband Juan Peron presided over.
November 25. Nearly 50 years later and on the verge of a new century and millennium, a play which attracted little attention at the time is still going strong in London's West End. Agatha Christie's "The Mousetrap" has become a triumph of longevity in the fickle world of the theatre. At the time it was predicted that the thriller - about a group of people cut off in a snowbound house - would enjoy "a fair degree of success".
A wealth of suspicious characters with guilty secrets are still keeping the audience guessing to this day.vRichard Attenborough played the detective who has to sort it all out in the original production at the Ambassadors Theatre.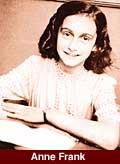 June 15. One of the most poignant of all wartime secrets was revealed with the publication of The Diary of Anne Frank.
The author was just 13 when she started to keep records in 1942 while she and her German Jewish family were living in secret in Amsterdam.
For two years she lived with seven other people in claustrophobic confinement and in constant fear of discovery. Eventually they were betrayed and taken by the Gestapo. Only her father and her diary were to survive the war.
December 11. It was one of the worst miscarriages of justice. A 19-year-old with the IQ of someone half that age was sentenced to hang for a crime committed by an accomplice. Derek Bentley was sentenced to death for the murder of a policeman on a south London rooftop even though it was Christopher Craig who had fired the fatal shot.
Craig, described by the Lord Chief Justice as one of the most dangerous criminals to stand in a court of law, escaped the noose because he was only 16. Bentley went to the gallows because he was heard to shout the words "Let him have it, Chris" to his partner - a reference to the gun rather than the victim, it was claimed in his defence. Bentley won a posthumous pardon two years ago.