October 31. Divorce, having caused the Abdication Crisis 20 years previously, created yet another heartbreaking wrench between love and duty. Princess Margaret, the younger sister of the Queen, formally announced that she would not marry her constant companion, the dashing - but divorced - Peter Townsend.
In an official statement, the princess told the nation: "I would like it to be known that I have decided not to marry Group Captain Peter Townsend . . .Mindful of the Church's teaching that marriage is indissoluble and conscious of my duty to the Commonwealth, I have resolved to put these considerations above all others."
As the princess was 25, she could have married without the consent of her sister, the Queen. But such a marriage would have caused divisions within the country and she might have been excluded from the Civil List.
She and Townsend were clearly in love. When the dramatic announcement was made, his butler told reporters: "He is not in a position to make a statement. He is very distressed." When Townsend was posted to Brussels as air attache - widely seen as a ploy to keep the pair apart - Princess Margaret was ill for three days.
June 21. Platinum blonde Ruth Ellis was found guilty of the murder of her lover and sentenced to hang at the age of 28. Her trial had lasted only two days and it took the jury just 25 minutes to find her guilty of killing racing driver David Blakely who was having an affair with another woman. She had shot the man she loved with a gun she had been given as security for a debt at one of the sleazy bars she ran in London. She appealed against sentence but was told that jealousy was no defence and duly became the last woman in Britain to be hanged.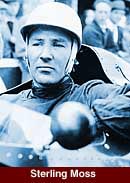 May 1. Stirling Moss became the first Briton to win the Mille Miglia road race in Italy. It was his first continental race since signing for the Mercedes Benz team and he crossed the finishing line half an hour ahead of the runner-up, the legendary Fangio. There have been greater racing drivers since but his is a name which still strikes a chord and the occasional police officer with a long memory can still be heard asking a speeding driver: "Who do you think you are? Stirling Moss?"
September 22. Commercial TV opened in Britain with an advert for Gibbs SR toothpaste, a variety show hosted by Robert Morley and a boxing match from the East End of London. The first night's viewing lasted only 70 minutes and was up against "The Donald Duck Story" on the other side. But what really stole its thunder was the dear old "Archers" on steam radio in which one of the leading characters, Grace Archer, died in a fire.
January 23. The first wave of Jamaican immigrants arrived in the West Midlands to seek homes and work. They confessed to feeling a mixture of hope and anxiety but their confidence was boosted when they were given a hero's welcome at Plymouth, being piped ashore by a naval band. Fears were expressed in other quarters, however, and there was concern about the influx from the Caribbean of immigrants arriving without jobs and with little money.