January 24: Winston Churchill, unquestionably the greatest Englishman of his generation, died peacefully aged 91. It was 70 years to the day after the death of his father.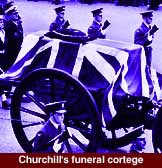 Churchill's life was the stuff of legends. As a young officer he took part in the cavalry charge at the Battle of Omdurman. He lived long enough to see men in space.
During the First World War he was First Lord of the Admiralty and largely responsible for the Gallipoli landings in southern Turkey which turned into a disastrous and bloody failure. Churchill stood down, served with his regiment in the trenches and virtually vanished from public life in his "wilderness years." But in the late 1930s he emerged as a powerful voice urging rearmament at a time when most politicians wanted to appease dictators such as Hitler and Mussolini.
When war came, Churchill was proved right. First in the Admiralty and later as prime minister, he used his skill in the English language to magnificent effect. His speeches in 1940, after the retreat from Dunkirk and during the crucial Battle of Britain were beautifully constructed but never bombastic. He spoke to the heart of Britain, never shielding the people from the terrible risks they faced but reassuring them that all would be well.
To the astonishment of millions, Churchill was voted out of office in 1945 before the war was even over. His time had passed, the people voted for the brighter future promised by Labour and the Welfare State. Although Churchill served again as prime minister, his finest hour was as a war leader.
His magnificent state funeral truly marked the passing of an era. One observer said: "It was a scene which belonged to an age of greater amplitude than our own."
February 8: Cigarette advertising was banned from television although it was to be some years before it disappeared entirely from the big screen. Critics were ferocious in their condemnation saying it was an illogical move to discriminate between different media. How could you ban cigarette advertising on the telly at night and allow it in daily newspapers and at the cinema, they argued. Health Minister Kenneth Robinson said that TV was targeted because it was an effective form of advertising for the vulnerable 11-15 age group.
October 29: Harold Wilson's dramatic flight to Rhodesia in a bid to head off Ian Smith's "unilateral declaration of independence" ended in failure. Although an optimistic spokesman for the PM declared that the "door can still be considered ajar" it had in fact been slammed shut by Smith and even Wilson could not get a foot in. The row was over Rhodesia's unwillingness to give black people any political power
November 29: The self-appointed guardian of public morals and the bane of the television industry took her first bow today when Mary Whitehouse set out on her mission to clean up TV. The bespectacled housewife had formed the National Viewers' and Listeners' Association and claimed to have more than 500,000 supporters. Her call was for the BBC to be more accountable both financially and morally to the people who paid the licence. She cited a play in which a crucifix doubled up as a pipe rack as being in bad taste.
April 28: Football legend Stanley Matthews finally hung up his boots at the incredible age for a player of 50. The Wizard of the Wing had played several times for Stoke City that season and was still able to bamboozle opposition defences. At the end of his final match he was chaired off the field by two other footballing legends, Russia's Yashin and Hungary's Puskas.