July 30: "They think it's all over . . . it is now!" Those eight words by Kenneth Wolstenholme, interrupted by England's fourth goal, marked a sporting triumph that everyone had dreamed of but few believed possible.
The smart money was on West Germany to win the 1966 World Cup at Wembley. But it was not mere flag-waving to suggest that what Bobby's Moore's team lacked in skill they more than made up for in spirit.
Wembley in full chorus was all the spur that England needed. At full time they were holding the Germans to a 2-2 draw. In extra time in quick succession England snatched a third and, while the Germans were disputing that goal and the pitch was already being invaded by delirious fans, a fourth.
Bobby Moore was hoisted on to the shoulders of his victorious team, holding the solid-gold Jules Rimet trophy high. In the years to come, Germany would avenge the defeat in full. But Wembley '66 was a moment to savour.
January 13: The body of six-year-old Margaret Reynolds was discovered in a ditch at Mansty Gully, Cannock, along with that of five-year-old Diane Tift. The girls had disappeared from their respective homes at Aston and Birmingham and the grisly discovery sparked off the region's biggest ever child slaying investigation.
Nearly two years later detectives were investigating the third of the Cannock Chase murders when the body of seven-year-old Christine Darby - enticed from her home in Walsall - was found at Parr's Warren. The hunt was to last another 15 months before Raymond Leslie Morris, a 39-year-old engineer living opposite Walsall police station, was arrested.
His name had come up five time during the long investigation but he had ended by tripping himself up. He was sentenced to life imprisonment in February 1969 after being found guilty of murder at Stafford Crown Court.
March 17: In a year when most of the sporting heroes had two legs, a four-legged one passed into legend. The new hero was Arkle, who won the Cheltenham Gold Cup in masterful fashion. Irish steeplechaser Arkle was the decade's favourite horse. Indeed, so much so that when it was ill it received several sackloads of get well cards. Many consider Arkle the greatest jumper of all time.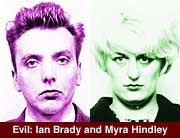 May 6: Moors murderers Ian Brady and Myra Hindley were convicted at Chester Crown Court and sentenced to concurrent life prison sentences for the horrific murders of young children. During the trial the jury heard harrowing tape recordings of one of the victim's ordeals and also viewed nude pictures taken of the child before her murder. It had been Hindley's brother in law who blew the whistle on the evil doings after witnessing the axe murder of one of the victims.
October 27: A coal tip in the South Wales mining village of Aberfan collapsed and buried a generation of children. More than 100 youngsters were killed along with 28 adults when thousands of tons of slurry and slag engulfed the village school. The giant tip began its deadly slide towards the village in mid morning and demolished the school within seconds. An army of rescuers - many of them frantic parents - toiled throughout the day and night to reach the victims who included five children found in the arms of the deputy headmistress.