June 10: After less than a week of fighting, Israel emerged victorious from what became known as the Six Day War. It had been brewing ever since the United Nations gave birth to the modern state of Israel nearly 20 years earlier.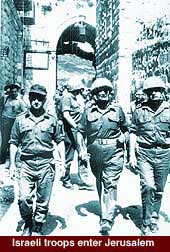 The surrounding Arab nations, infuriated at the plight of displaced Palestinians and armed by the Soviet Union, prepared a simultaneous strike at Israel from north, south and east. But Israel struck first. In a matter of hours Israeli warplanes effectively destroyed the Egyptian air force on the ground.
With the skies cleared of enemy aircraft, Israel troops, armour and jets tore apart the hapless Arab columns sent against them. The Sinai desert became a funeral pyre for the Egyptian Army. But the greatest prize for the Israelis was Jerusalem. As Israeli soldiers fought their way into the Arab east of the city, the Jordanian defenders pulled out and retreated to the River Jordan.
In a matter of hours Israel had more than doubled its size. In the years ahead, the so-called West Bank would provide a useful buffer against further invasions but its Palestinian folk would struggle endlessly for self-rule.
January 4: Donald Campbell was killed when his jet-powered Bluebird leapt into the air and somersaulted in Coniston Water in the Lake District. He was within a whisker of setting a new world water-speed record. Campbell's famous last words were: "She's going. She's going. I'm almost on my back." Frogmen found his oxygen mask, shoes and "lucky" teddy bear but eventually abandoned the search for his body.
March 30: Fighter aircraft blew up the wreck of the Torrey Canyon after it ran aground off the Cornish coast and dumped thousands of gallons of oil into the water. The oil went on to foul Cornish beaches and the incident was labelled the greatest peacetime threat to Britain. More than 100 miles of coastline were polluted despite the dropping of 48 incendiary bombs in a bid to clear the oil.
June 2: The Beatles seminal Sergeant Pepper's Lonely Hearts Club Band album was released and the era of flower power was well under way. Ironically the first so-called summer of love, famed for songs about San Francisco and people wearing flowers in their hair, came in a year when balladeers Tom Jones and Englebert Humperdinck sold records by the million.
November 19: The worst financial crisis for nearly 30 years ended with the devaluation of the pound. Premier Harold Wilson went on television to assure the electorate it did not mean the "pound in your pocket" had been devalued and at once became the butt of cartoonists, comics and impressionists.