November 14: Princess Anne, who a few months later was to survive a daring kidnap attempt, walked to the high altar of Westminster Abbey to become the first of the Queen's children to wed.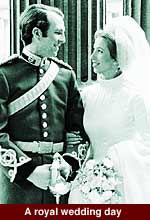 She married Captain Mark Phillips on an occasion of pride and pageantry which saw many Londoners spending an icy night on the pavements of the capital to guarantee a sight of the wedding procession. It was a full military ceremony for the Captain who wore the ornate scarlet and blue uniform of the 1st The Queen's Dragoon Guards. Like many other royal marriages of the era it was to end in divorce.
January 23: In Paris a ceasefire between the United States and North Vietnam formally ended the war which had killed 50,000 US boys and millions of Vietnamese.
Few believed that it would be the end of the affair. The war in Vietnam had torn American society apart. Poor kids had been drafted and died like flies. Rich kids had managed to dodge the draft. Liberals tore up their draft cards and marched for peace. Conservatives branded them as traitors and cheered when police broke up anti-war demonstrations. The bitter legacy of Vietnam lingers in America to this day.
It was a chilling experience for the American soul. Until Vietnam, America had never been beaten and its soldiers had always been regarded as heroes.
Suddenly, on live prime-time television, Americans were seeing their boys torching the homes of harmless peasants and firing machine-guns and rockets at anything that moved. The cold-blooded massacre of villagers at My Lai by US troops was all part of the process of disillusionment.
The Paris agreement enable America to pull out, handing over the defence of the south to the Saigon government. In April 1975 the war ended dramatically when the North Vietnamese army invaded, swept aside the US-armed South Vietnamese and reunited their nation.
May 24: 10 years after the Profumo Affair, another sex scandal gripped Britain and led to the resignation of two government ministers. Earl Jellicoe, the Lord Privy Seal and Tory leader in the House of Lords, and Defence Under Secretary Lord Lambton quit after being forced to admit they had used prostitutes. The scandal broke when photographs of Lambton taken by a call girl's husband were sent to national newspapers. He admitted the affair but denied that his behaviour had posed a security risk.
October 17: One of the fiercest military battles since the end of the war took place when Egyptian and Israeli troops clashed in the Sinai desert. As Israeli soldiers prayed in their bunkers to celebrate Yom Kippur, the Egyptians built pontoon bridges to cross the Suez Canal and stormed the supposedly impregnable Barlev Line to gain control of most of the Eastern Bank. At the same time Syria invaded the Israeli-occupied Golan Heights. Israel was taken completely by surprise by the twin attack and days of unparalleled violence followed.
April 8: The most influential and prolific figure in modern art died when Pablo Picasso succumbed to a heart attack at his French hideaway at the age of 91. His output has been estimated at a staggering 140,000 paintings and drawings, 100,000 engravings and 300 sculptures. Picasso's restless search for artistic perfection embraced the Blue and Rose paintings of circus performers, Cubism and collages, neo-classicist and surrealist works and the immense and moving work "Guernica". He was still working at the time of his death.

In brief
February 14: Brave Joe Bugner, the blond bombshell of British boxing, narrowly lost a 12-round contest with Muhammad Ali on points.
March 2: Wolves beat Manchester City 2-l at Wembley with goals from John Richards and Ken Hibbitt, bringing the League Cup to Molineux for the first time.
April 16: Wimbledon champion Ann Jones, of Edgbaston, gave birth to a son at Birmingham Maternity Hospital.
May 5: Second division Sunderland won the FA Cup beating Leeds united 1-0.
May 15: Edward Heath condemned the trading company Lonhro for some of its business practices saying they were the "unacceptable face of capitalism".
August 8: Top goalkeeper Gordon Banks was forced to quit football after damaging his sight in a car crash.
September 11: President Allende of chile, his country's first democratically elected head of state, was overthrown in a military coup by right wingers.
October 8: The BBC got its first legal radio rival when commercial radio started in London.
November 3: Lichfield newsagents worried by the prospect of police raids asked their MP for guidance on the magazines they could stock, insisting there was a demand for adult reading.
November 13: Wolverhampton NE MP Renee Short called for abortions in Catholic Ireland to stem the flow of women who came to Britain each for a termination.
November 26: Petrol rationing started in Britain following the fall in the supply of oil.
December 20: Spain's Prime Minister Luis Carrero Blanco was assassinated when a huge bomb was hurled at his car.
December 31: Nearly half of Midlands' industry, including 55,000 at British Leyland, was at a standstill as the three-day week came into force.