June 26: The temperature in London hit a record 95F. It was the year of the drought and the following month Parliament published the Drought Bill introducing special measures to deal with the worst dry spell in 250 years.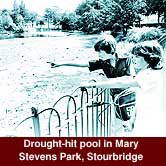 All over Britain reservoirs ran dry. In some, long-drowned villages could be seen, an even visited, for the first time since they had been inundated. Much of the West Country and Wales was left without tapwater by day. Fires raged out of control in the New Forest and on some moors.
Stand pipes in streets, and queues waiting patiently with buckets, became a familiar sight. Industry was forced to ration water and some Midland businesses had to operate a shorter working week.
Dirty cars came to be seen as patriotic, families learned how to recycle their bath water to keep their vegetables alive, and water lost by flushing toilets was reduced by the simple expedient of putting a brick in the cistern.
Some put their faith in rain dancers. But Downing Street opted for Denis Howell, the popular sports minister. He was created minister for drought. And a few days later, on August 31, a sudden shower stopped play at Lord's. The crowd cheered. The rains had come.
July 31: Romanian gymnast, 14-year-old Nadia Comaneci, was awarded the first perfect 10 in Olympic history for her performance on the asymmetric bars in Montreal. She went on to score five further 10s and three gold medals in a games marred by the boycott of 22 African nations angered by the presence of New Zealand, which still had sporting links with South Africa.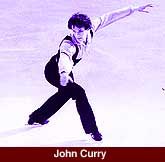 In the winter games at Innsbruck in Feburary, Birmingham's John Curry won gold in the men's figure skating, becoming the first Briton to win a medal of any description in men's skating events. His balletic performance proved a watershed in the sport which had become dominated by technical expertise.
More than 100 hostages held in Uganda by pro-Palestinian skyjackers were rescued when Israeli commandos stormed the airport at Entebbe. The Air France jetliner had been hijacked in Athens while on a flight from Tel Aviv to Paris. The troops took the seven raiders by surprise when they landed in three giant Hercules transport planes and rushed the airport lounge where the hostages, mainly Israeli and Jewish travellers, were being held.
In the 35-minute battle that followed, 20 Ugandan soldiers and all seven hijackers died. Three hostages and one Israeli commando were also killed. The attack came just hours before a deadline set by the hijackers for killing the hostages if demands for the release of 53 pro-Palestinian terrorists held in several jails were not met. The Ugandan dictator Idi Amin, who had been giving help to the hijackers, later congratulated his troops for "repulsing the invaders".
August 6: Disgraced Walsall MP John Stonehouse, who faked his own drowning off a Miami beach, stood stone-faced as he was sentenced to seven years for fraud, theft and deception. But beside him, the woman with whom he had intended to live the good life in Australia, buried her head in her hands and wept. It was the first real emotion that 29-year-old Sheila Buckley had shown during the marathon 68-day trial.
She was sentenced to two years' imprisonment, suspended for two years, for her part in Stonehouse's get-rich-quick schemes. The 51-year-old MP for Walsall North, once tipped as future leader of the Labour Party, had been found guilty of 18 charges involving theft and false pretence, sparking calls for his immediate resignation.
August 8: Two ordinary women from Ulster, sickened by the continuing violence on the streets of their province, launched the Ulster Peace Movement. The idea was sparked by the death of three children who were crushed by a car spinning out of control after its terrorist driver had been shot and killed by the army. Betty Williams and Mairead Corrigan, the dead children's aunt, appealed to the women of Ulster to speak and act against the killings. The movement spread spontaneously.

In brief
January 2: Hurricane-force winds of up to 105mph in Britain left 22 people dead and caused widespread damage.
January 21: The first commercial flights by the supersonic airliner Concorde were launched simultaneously - from London to Bahrain and from Paris to Rio.
January 28: Bags of spuds appeared among the prizes at a Wolverhampton bingo hall as a potato shortage caused prices to soar.
February 2: The Queen opened the 60 million NEC in Birmingham despite anxious moments beforehand when the airport runway had to be treated with de-icing fluid before the royal aircraft could land.
February 9: Sandwell struck a blow for sex equality when two women started work on a corporation dustcart, emptying bins.
February 18: Controversy erupted over the Tate Gallery's newest exhibit - a pile of bricks by artist Carl Andre.
March 16: Prime Minister Harold Wilson resigned without warning.
March 19: Princess Margaret and Lord Snowdon split after 15 years of marriage.
May 10: Jeremy Thorpe resigned as leader of the Liberal Party, complaining of "a sustained witchhunt" against him following claims by former male model Norman Scott that they once had a sexual relationship.
May 17: Britain's No.1 shot putter walked out of an international meeting at Wolverhampton's Aldersely Stadium, complaining his concentration had been repeatedly disturbed by the public address system.
July 3: Swedish tennis player Bjorn Borg, aged 20, became the idol of teenage Wimbledon fans when he beat Ilie Nastase of Romania to become the youngest champion for 45 years.
September 9: Chairman Mao Tse-tung, leader of Communist China's 800 million population and author of the "Little Red Book", died at the age of 82.
October 24: Britain's James Hunt drove to victory in the world motor racing championship.
November 2: Georgia peanut farmer Jimmy Carter knocked Gerald Ford out of office by winning the presidency of the United States for the Democrats.
December 17: Young Dudley comedian Lenny Henry, aged just 16, was voted Britain's top non-smoker for his declaration aimed at teenagers that cigarettes were not fashionable.