May 5: As a bank-holiday television audience watched in amazement, a bloody siege at the Iranian Embassy in London came to a spectacular end. Figures in black swung down ropes and leaped over balconies to get into the embassy. A huge explosion ripped out the front window.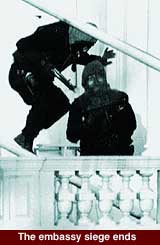 For a moment it looked as though everything was going horribly wrong. But minutes later, after a fusillade of firing and with the embassy in flames, the hostages were led to safety.
The truth slowly emerged. The men in black were members of Britain's Special Air Service Regiment. The SAS had been raised during the Second World War to carry out hit-and-run raids deep inside enemy territory. Its modern role, if the Cold War ever turned hot, was as "sneaky-beaky" spy units operating far behind enemy lines. But it had also spent years rehearsing to deal with the growing international threat of organised terrorism. That training was put to the test at the Iranian Embassy in the full glare of publicity.
The SAS, having been handed the embassy incident by the Metropolitan Police, did the job, formally signed it back over the the police and quietly returned to their top-secret barracks in Hereford. For a sickly Britain at a low economic ebb, with unemployment hitting two million and inflation roaring at 20 per cent, the SAS operation showed that the nation still bred heroes, and could still do something right.
May 4. President Tito of Yugoslavia died, aged 87. The wartime leader had become an inspiration for his people. Tito not only welded together a nation which had been cobbled together at the end of the First World War but had given its various cultures a common pride in being Yugoslavian. The secret of his success was firm government, coupled with a variety of communism that was distinctly different from the Moscow version.
Yugoslavia under Tito was open to Western ideas and a popular holiday venue for British tourists. When he died, there was a power vacuum. Without him, Yugoslavia seemed destined to fall apart into its ancient, warring states. For a decade, all seemed well. Then the inevitable happened and the scenes in Bosnia and Croatia were as savage as anything seen in the world wars.
August 14: Lech Walesa, an electrician at the Lenin shipyards in Gdansk, led 17,000 fellow workers out on strike in protest at increases in food prices and the sacking of trade union activists. The unrest spread and workers called a general strike, presenting the government with a series of demands.
After a summer of strikes and demonstrations that won far-reaching concessions from their Communist leaders, the independent trade union Solidarity was formed. The Party had experienced defeat of a magnitude never experienced in the Soviet bloc. The historic deal gave workers the right to strike and softened censorship.
June 12: Teenage hostage Gail Kinchen was shot by a police marksman during a siege in Birmingham. West Midlands Chief Constable Sir Philip Knights denied a cover-up after police originally blamed the gunman, who had taken the pregnant 16-year-old on a seven-mile terror ride ending in the police shooting at a Rubery tower block. The truth only emerged after they received medical reports, Sir Philip told a press conference. Two different guns had caused the four wounds to Gail but both officers responsible would remain on duty throughout an inquiry into the incident, he insisted.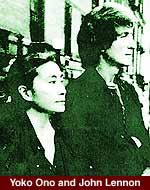 December 9: Former Beatle John Lennon was gunned down outside his New York apartment by a deranged fan. His attacker, 25-year-old security guard Mark Chapman, who had a history of mental illness, then simply dropped the revolver and waited to be arrested. Lennon, aged 40, had given him his autograph earlier in the day.

In brief
January 1: A New Year's Day baby came as a complete shock to her 41-year-old West Bromwich mother Gloria Palmer. Gloria didn't know she was pregnant - and was under treatment for wind and heartburn.
February 13: Wembley fever hit Wolverhampton after Wolves' fighting win over Third Division Swindon. Fans jammed the Molineux switchboard for tickets for next month's League Cup final against Nottingham Forest.
March 4: Robert Mugabe, former Roman Catholic mission boy and Marxist revolutionary, is elected Prime Minister of the new state of Zimbabwe, the former British colony of Rhodesia.
April 25: A bid by America's crack Delta Force to rescue 53 hostages being held in Teheran's US Embassy ended in humiliating failure before it had even begun. The mission had been aborted when a helicopter refuelling to go home crashed into a tanker aircraft, killing eight Americans.
May 12: An industrial tribunal rejects the claim by BL shop steward "Red Robbo" Robinson that he was unfairly dismissed.
June 9: Bus drivers and engineers in the West Midlands were told they had to take a 13 a week pay cut to help wipe out an expected £12 million loss by the Passenger Transport Executive - passengers faced a 15 per cent increase in fares.
July 1: Sixpenny pieces cease to be legal tender.
August 3: The Olympic Games end in Moscow on an up note despite disruption from the American-led boycott. The event saw the clash of the world's two greatest middle-distance runners, Britain's Steve Ovett and Sebastian Coe, who each won gold though not in their predicted events.
August 15: The wreck of the Titanic was reported to have been located 12,000ft below the sea's surface.
November 4: Ex-actor Ronald Reagan, the Republican Governor of California, trounced Jimmy Carter in the US presidential elections. The failure of the Teheran hostage rescue was thought to have sealed Carter's fate.
November 19: Addicts of the TV soap Dallas tuned in to find out who shot JR. The episode had the highest ratings of any TV programme yet screened.
December 2: Hundreds of mourners lined the streets of Bilston for the funeral of shot security guard George Smith who died during an 11,000 wages raid on a Willenhall factory in November.