October 12: The IRA struck at the heart of British government. A bomb planted days before the Tory conference exploded in the Grand Hotel, Brighton where many party leaders and their spouses were staying. The outrage came towards the end of what had been a bad year for the terrorist, with the loss of a major arms shipment discovered in a trawler.
Four died in the Brighton blast. Mrs Thatcher and other ministers had narrow escapes. The enduring image was of a pyjama-clad Norman Tebbit wincing in pain as fire fighters lifted him to safety on a stretcher. His wife was terribly injured and confined to a wheelchair.
Although it was a huge propaganda victory for the IRA, the Grand Hotel bombing won much public sympathy and support for Mrs Thatcher. Britain had never been bombed into submission, she said, and she had no intention of starting now. More chilling was the verdict on Brighton by the IRA: "We only have to be lucky once."
March 15. British miners went on strike in a stoppage which was to last into the following year and change the face of Britain. Warned by their leaders that the Tory government planned to close hundreds of pits, the miners walked out and picketed coal plants. But they were frustrated by one of the biggest police operations ever co-ordinated.
Hundreds of officers fought pitched battles with the miners and intercepted coachloads of flying pickets. It was a direct attack on the leadership of Margaret Thatcher, and the "Iron Lady" stood firm. When it was all over the strike had divided fathers from sons and left deep divides in mining communities which never healed. Although the miners marched back to work behind their pit bands, heads held high, their worst fears came true. In the decade that followed, the British coal industry was decimated.
February 14. Christopher Dean and Jayne Torvill produced a new ice dance for the Winter Olympics at Sarajevo that was destined to pass into legend. Their stunningly erotic interpretation of Ravel's Bolero was a perfect combination of skill, strength and emotion. The judges awarded the Midland couple 12 sixes for the free-dance section and a perfect nine sixes for artistic interpretation.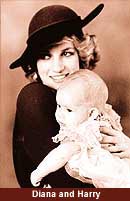 September 15. A new prince was born. At the time it still seemed that the marriage of the Prince and Princess of Wales had been made in heaven. The news of a second son, Prince Henry Charles Albert David, was especially popular with traditionalists for whom the first job of any royal couple was to produce "one heir and one spare." The new prince was to be known as Harry.
April 17. As television cameras rolled to cover a demonstration outside the London Embassy in London, the unthinkable happened. A burst of machine-gun fire cut down a young police officer, WPc Yvonne Fletcher. As passers-by and demonstrators rushed for cover, colleagues tried to save the wounded officer, but to no avail. The death of WPc Fletcher not only ended diplomatic relations between Britain and Libya but caused many to question the concept of diplomatic immunity. The law forbade the police from storming the embassy in pursuit of the killer. No-one was ever brought to justice.

In brief
February 9. Soviet leader Yuri Andropov died and was succeeded by Konstantin Chernenko, already 72.
April 2. Wolverhampton traders appealed for police help after gangs of 30 youths rampaged through the town centre, looting shops.
April 15. Comedian Tommy Cooper died during a live TV programme.
April 19. A "hush-hush" investigation into several West Midlands detectives recommended no criminal action.
June 6. More than 1,000 Sikhs died in fighting at the Golden Temple of Amritsar when troops were ordered in to end an occupation by Sikh extremists.
August 1. Wolverhampton leisure chiefs dismissed as "misleading" a report claiming that Dudley offered cheaper entertainment.
August 5. Richard Burton, one of the most popular actors of the age, died.
August 27. Families fled from a blaze in the service-station bridge over the M6 at Keele.
August 29. Colin Angus quit as manager of Grand Theatre, Wolverhampton, claiming he was the victim of "a hounding campaign."
September 15. Prince Henry Charles Albert David, to be known as Prince Harry, was born.
October 31. The Indian prime minister Indira Gandhi was assassinated by her Sikh bodyguards.
November 6. Ronald Reagan was re-elected as US President.
November 20. In the biggest share issue the world had ever seen, British Telecom shares went on sale.
December 4. A cloud of poison gas from a pesticide plant swept over the India city of Bhopal. At least 2,000 perished.