May 11: A fire at Bradford City's ground killed more than 40 fans. It happened, as with so many modern disasters, as the television cameras were rolling.
With horrifying speed the blaze, thought to have started in rubbish which accumulated beneath a stand, took grip and raced across one end of the ground. Many of those who died were in the back of the stand, unable to escape through locked turnstiles. Those at the front were luckier, escaping on to the pitch. Pundits dreaded what the toll might have been if the ground had been fitted with pitchside barriers.
The Bradford disaster was too much to bear for some of the professionals who, until then, had been expected to deal with anything. Police officers went sick with a condition later diagnosed at post-traumatic stress disorder, similar to the shell-shock of the world wars.
It was a terrible year for football. Only a few weeks after the Bradford disaster, on May 29, rampaging Liverpool fans caused the deaths of 41 Belgian and Italian fans when barriers collapsed at the Heysel stadium in Brussels.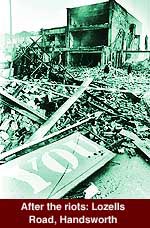 September 9. There were violent riots in the Handsworth area of Birmingham. The autumn becomes a season of rioting in British inner-cities with major violence in Brixton on September 28 following the shooting of a black woman Cherry Groce by a policeman and on the Broadwater Farm Estate in Tottenham on October 6 when a policeman is killed.
May 10. An outbreak of the deadly bug legionella in Staffordshire results in the death of more than 30 people. The Legionnaire's Disease lung infection was named after an outbreak at a 1976 American Legion convention. The victims of the latest outbreak were out-patients attending the Stafford District General Hospital. The disease was traced to the hospital's cooling towers where the bug wasfound to be breeding.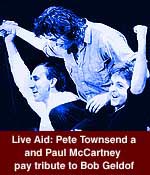 July 13. Rock and pop stars around the world combine for Live Aid, the biggest-ever concert which is beamed around the globe and watched by 1.5 billion people. The event, which is staged at Wembley Stadium and JFK Stadium, Philadelphia, raised a staggering 40 million to help relieve the famine in Ethiopia and other parts of Africa. Boomtown Rats vocalist Bob Geldof, who inspired the charity effort, becomes "Saint" Bob and is nominated for the Nobel Peace Prize. The cream of the music industry perform including Queen, Dire Straits, David Bowie and Mick Jagger.
September 19. Mexico City was devastated by a huge earthquake which measured 7.8 on the Richter scale. Tower blocks collapsed like packs of cards and more than 5,000 people died. Days after the disaster came the miraculous rescue of 58 new-born babies found alive in the wreckage of a maternity hospital. Mexico bounces back to host the 1986 soccer World Cup.