March 6: As the Townsend Thoresen ferry, Herald of Free Enterprise, sailed out of Zeebrugge harbour it suddenly capsized. Nearly 200 passengers perished in a few minutes which saw not only panic but also deeds of great courage and self-sacrifice.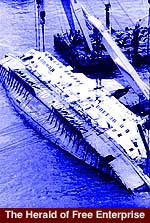 How had it happened? As the facts emerged, ordinary members of the public were horrified and the bereaved families outraged. The ferry had apparently set sail before the vast bow door, big enough to admit coaches and lorries, had fully closed. As thousands of gallons of water poured into the ship, she became unstable and turned turtle. The official report concluded that the ferry company was "infected by a disease of sloppiness."
It was not until the end of April that the Herald of Free Enterprise was refloated. It was a harrowing and poignant moment as the sea gave up its dead.
January 20. The Archbishop of Canterbury's special envoy Terry Waite was abducted in Beirut. He was in Lebanon trying to negotiate the release of other hostages taken by the Islamic fundamentalist Hezbollah group. The giant bearded negotiator left a seafront hotel in West Beirut after dismissing his armed Druze guards. He insisted he was safe and was being taken to see hostages. Mr Waite was not to be seen again until his eventual release in November 1991.
August 19. Gunman Michael Ryan went on the rampage in the quiet Berkshire town of Hungerford. He left a trail of 13 dead and 15 wounded before he turned his gun on himself in a local school. Ryan first shot a young mother in Savernake Forest before returning to his home and shooting his mother and setting fire to the house. Ryan, who had a licence for several pistols and rifles, then opened fire on neighbours.
October 16. The Great Hurricane hit Britain - the worst storm in 250 years caused havoc in southern England. Winds of up to 110mph were recorded as about 15 million trees were felled and buildings and cars were destroyed. The storm of the century left 17 dead in its wake. The Meteorological Office was criticised for its failure to predict the hurricane which caused destruction estimated at 300 million.
May 28. West German novice pilot Mathias Rust, aged 19, causes red faces in the Kremlin when he flies his light aircraft undetected through Soviet air defences to land in Red Square, Moscow. He signs autographs for amazed Russians before being arrested.
October 19. A massive downward spiral on the world's stock markets, dubbed Black Monday, wiped billions from share prices. The FT Index in London lost 10 per cent of its value - the sharpest ever one-day fall.