January 17: At dead of night in the Gulf, the coalition attack to liberate Kuwait began. It was codenamed Desert Storm. In a matter of hours government and military buildings in Baghdad were destroyed by cruise missiles and stealth bombers, invisible to radar.
In the desert mighty B-52 bombers began destroying Saddam's fleets of tanks. RAF Tornados were sent to destroy Iraqi airfields in daring low-level strikes, but so many were shot down that low-level attacks were quickly banned. Iraq responded by firing Scud missiles into Israel, causing a gas-attack scare. But Israel refused to be drawn into the war. Behind enemy lines, SAS units were seeking out and destroying Scud launchers.
The allied commander, US General Norman Schwarzkopf, refused to send in his ground troops until the bombers had done their work. On February 24 he unleashed his forces. It was all over in 100 hours, the Staffordshire Regiment playing a key role in the British armoured division's lightning advance. As Iraqi soldiers surrendered by the thousand, some tried to flee using the main road north to Iraq. But the column was spotted and hundreds perished in a "turkey shoot" as US jets and helicopters attacked.
The UN's job was to liberate Kuwait. That done, the coalition forces halted and made no attempt to invade Iraq or topple the Saddam regime. An estimated 100,000 Iraqi conscripts perished in the war he had begun, but the "Butcher of Baghdad" was still in power.
March 14. The Birmingham Six who had been jailed for the 1974 pub bombings were freed after their convictions were quashed by the Court of Appeal.At their original trial, which lasted more than 50 days, the Six faced what looked like a rock-solid case based on forensic and circumstantial evidence and some confessions. But the forensic tests were debunked and the men claimed that the confessions had been beaten out of them by West Midlands Police. The first Appeal Court hearing rejected their case out of hand. But by 1991 the weight of new evidence made the convictions unsafe.
April 24. The managing director of Ratners, Britain's biggest jewellers, Gerald Ratner, joked that some of his goods were "crap" and earrings were likely to last for less time than a Marks & Spencer sandwich. Although he tried to prevent catastrophe by pointing out that he was referring only to a very few items, the damage was done. "Ratners" became synonymous with poor quality goods and contempt for the customers. It was an object lesson in poor public relations. The company's share prices plunged.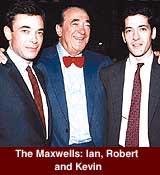 November 5. British publisher and business tycoon Robert Maxwell fell to his death from his yacht in the North Atlantic near to the Canary Islands. Maxwell had been born in Czechoslovakia as Ludvik Hoch and liked to portray himself as a war hero (he won the MC) and a gentleman.
But the Mirror boss's business methods had been called into question long before his death and he covered up media investigations into later scandals by the ruthless use of injunctions. After his mysterious death his many enemies denounced him as a crook, a liar and a bully. It emerged, too, that he had looted millions of pounds from his employees' pension fund. The Maxwell scandal led to reforms in company pensions designed to protect workers from similar raids.
August 19. Russian President Mikhail Gorbachev was imprisoned in his holiday home in the Crimea as Communist hardliners attempted a coup in Russia. The coup failed largely thanks to the efforts of Boris Yeltsin who enlisted the support of a handful of tank commanders and forced the coup leaders to flee Moscow and allow Gorbachev to return. In the wake of the failed coup, Yeltsin suspended the Communist Party, ending 74 years of its rule.

In brief
January 1. A Midland survey showed that more than 30 per of us wanted the honours system scrapped.
January 5. Gales swept Britain and 27 died.
January 23. BBC Radio WM announced big cutbacks in its Heartlands operation in Birmingham.
February 7. The IRA launched a mortar bomb attack on 10 Downing Street when the war cabinet was meeting. No-one hurt.
February 27. Kuwait City was liberated by the UN coalition forces.
March 3. The beating given by Los Angeles policemen to black motorist Rodney King was captured on videotape. The following year his attackers were cleared by an all-white jury and race riots swept LA.
March 20. Michael Heseltine announced that the unpopular poll tax was to be scrapped.
April 30. A cyclone hit Bangladesh and 138,000 people died in floods.
May 6. A gang escaped with 50,000 after drilling into the strongroom at Barclays Bank, Shifnal.
May 19. Britain's first astronaut Helen Sharman was blasted into space on a Russian Soyuz rocket to join space station Mir.
May 21. Indian Prime Minister Rajiv Gandhi was assassinated with a bomb as he campaigned for re-election.
May 29. In a protest over poll tax, Dudley campaigner Martin Blatchford was jailed for two weeks. As he was led away to the cells, he declared: "Victory!"
June 20. The German Bundestag voted to move the seat of government from Bonn to Berlin.
June 25. The disintegration of Yugoslavia began as Croatia and Slovenia declared their independence.
October 17. Police swooped on addresses in the West Midlands, following a 1 million seizure of cannabis near London. Six arrested.