February 20. Britain, and the world, was horrified at the arrest of two boys aged ten in Liverpool for the abduction and murder of two-year-old Jamie Bulger.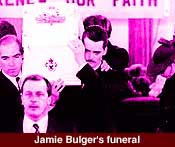 The toddler wandered away from his mother in a shopping centre. Security cameras showed him being led away by the two boys, Jon Venables and Robert Thompson. They took him to a railway embankment where they tortured and stoned him to death. The killing caused revulsion, bewilderment and endless soul-searching.
Was no child safe from abduction? Was Britain raising a generation of amoral children who simply didn't understand right from wrong? As sales of kiddy-leads soared, police painstakingly assembled the case against the two killers.
Hundreds of mourners attended Jamie's funeral. A mob attacked the prison van carrying the accused. But at the trial at Preston Crown Court, public apathy was in the dock alongside the young killers. The court heard how witness after witness had seen the bruised and weeping child with the two older boys, but none had intervened. Neither of the boys offered any explanation for what had happened. The judge suggested that violent videos may have been responsible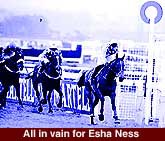 April 3. The Grand National that never was - animal rights demonstrators disrupted the start of the race at Aintree. Esha Ness raced home first in the world's greatest steeplechase, but the result was declared null and void. Bookmakers had to return 75 million which had been staked on the race.
April 20. The two-month long siege of the headquarters of the Cult Davidian in Waco, Texas, came to a bloody end. A fire broke out when the FBI rammed the compound with tanks and fired tear gas. The blaze ripped through the building killing 95 including the cult leader David Koresh. The siege had begun on February 28 when agents from the Bureau of Alcohol, Tobacco and Firearms tried to raid the compound to search for illegally-held weapons. Four agents died when cult members opened fire.
September 13. Israel's Prime Minister Yitzhak Rabin and Palestinian Liberation Organisation leader Yasser Arafat shook hands and sign a peace accord on the White House lawn. The historic agreement gave the Palestinians limited autonomy in the Gaza Strip and West Bank. The old foes had been brought together by US President Bill Clinton after the Norwegian government worked secretly for months to organise talks between the PLO and Israel.
December 15. The Downing Street Declaration raised fresh hopes for an end to the terrorist violence that had claimed the lives of more than 3,000 people in Britain and Ireland since 1968. British Prime Minister John Major and his Irish counterpart Albert Reynolds agreed an arrangement by which a united Ireland might be created.