April 20. Dozens were killed and hundreds injured when a federal building in Oklahoma City was torn apart. Terrorism, so long something that happened to other people, had arrived in the sleepy heart of a state best known for the musical Oklahoma!
To make it worse, this outrage could not be blamed on foreigners. This was home-grown rebellion of the most sinister sort and it was spreading across the United States. With weapon sales out of control and a long historical tradition of dissent, extreme right-wing militias were arming themselves and stockpiling explosives.
Some believed they were preparing for a God-sent Armageddon, others were simply rebelling against a Government in Washington which seemed increasingly isolated from the needs of ordinary Americans.
It was significant that the Oklahoma bomb was planted on the second anniversary of troops and police destroying the headquarters of the bizarre Branch Davidian cult in Waco, Texas, with heavy loss of life. Many felt that the authorities had used excessive force at Waco.
For some fanatics, Oklahoma was a matter of getting even. Although government offices were the target, a children's creche took the full force of the blast. The image of a rescuer cradling a dead or dying baby brought the reality of terrorism home to middle America.
February 27. Britain's oldest bank, Barings, came crashing down after the Bank of England failed to put together a rescue package. The villain of the piece was 26-year-old Nick Leeson, a trader employed by the bank in Singapore whose reckless dealing on the futures market led to losses of more than 620 million.
Leeson went missing but was eventually brought before the court in Singapore and sent to jail where he later developed cancer. The Barings affair sent a shudder of alarm through bankers and savers everywhere. How could it be in a modern, sophisticated banking system, that one man could bring down an entire bank?
January 17. A sudden earthquake wrecked the Japanese city of Kobe, killing 6,000 residents, injuring 30,000 and destroying at least 100,000 homes. The catastrophe was not only a human tragedy but a body blow to the Japanese economy, already beginning to show cracks after years of boom. It also called into question the skills of scientists in predicting such tremors. Kobe had virtually no warning of what was coming. And despite being in a known earthquake zone, buildings and highways collapsed and the whole area was left with no electricity or means of getting help to the suffering.
June 27. Hugh Grant, the tousle-headed star of Four Weddings and a Funeral, was arrested in Los Angeles after being caught in a compromising situation with a prostitute. He immediately issued a statement expressing regret for his behaviour but it was not enough to draw a line under the showbiz-scandal story of the year. The prostitute, Divine Brown, was offered huge sums of money to "kiss and tell" and Grant returned home to face not only the media but also his girlfriend, Liz Hurley.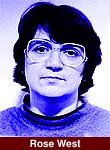 November 22. Rose West, a plump, cardigan-clad housewife from Cromwell Street, Gloucester, was convicted on ten counts of murder and sent to prison for life. Her husband, Fred West, had earlier committed suicide in prison rather than face trial for a string of crimes which horrified the world.
At their seemingly quiet home, the Wests had abducted, tortured and murdered a string of people, including young girls and West's first wife. More bodies were found at West's previous home. The way in which the victims had been used as sexual playthings by this depraved couple shocked even hardened detectives. In order to erase the memory and keep sick sightseers away, the local council eventually demolished the house in Cromwell Street.

In brief
January 1. Mass murderer Fred West hangs himself in Winson Green prison, Birmingham.
January 19. Protesters managed to prevent the export of live animals from Shoreham harbour, Sussex.
January 23. Plans for a 1,600-seat, 2.75 million bingo hall unveiled at Bilston.
January 25. Manchester United star Eric Cantona was in disgrace after kung-fu kicking a fan
March 17. Master criminal Ronnie Kray died in hospital
April 4. Kenny Everett, comedian and TV star, died of Aids.
April 10. The first national database of DNA was unveiled in Birmingham.
May 16. Police in Japan arrested 41 members of a cult following a nerve-gas attack on the Tokyo underground which killed 12.
June 29. More than 600 killed in South Korea when a shopping centre collapsed.
August 1. Six men were jailed after Britain's biggest High Street fraud, a 5.6 million scam involving Co-Op societies in the West Midlands
August 6. As licensing laws were relaxed, English pubs could open on Sunday afternoons.
August 24. Pleasure boats trapped at Stourbridge after 100,000 gallons of raw sewage flooded into the canal.
October 1. Stores are crowded out as fans clamour for the second album from Oasis, (What's the Story?) Morning Glory.
October 26. Complaints about noisy pubs in Wolverhampton reached an all-time high with one in ten of the town's 240 pubs the subject of protests.
November 4. Israeli prime minister Yitzhak Rabin was assassinated by a fanatic who told police: "I acted alone on God's orders."
November 28. The £20,000 Turner Prize for art goes to Damien Hirst whose work includes four glass tanks containing the preserved halves of a cow and her calf.
November 30. President Bill Clinton became the first US president to visit Northern Ireland.