July 8. Lisa Potts became Wolverhampton's national heroine after tackling a machete-wielding maniac who ran amok at St Luke's School in Blakenhall. She suffered terrible arm injuries as she tried to protect the youngsters who had been enjoying a school teddy-bear picnic.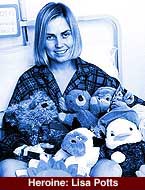 "I couldn't believe what was going on," she said shortly after the attack. "I was just really concerned for the children. They were hiding under my skirt, holding on to my legs and screaming my name. I was trying to hide them in the cupboards. I was desperately trying to open the door to get them out but I couldn't because my arm was such a mess. It must have been the adrenaline that kept me going."
After a campaign to recognise her bravery, led by the Express & Star, Lisa Potts was awarded the George Medal.
March 13. Thomas Hamilton, a loner with a grievance against local parents, walked into the primary school in the Scottish town of Dunblane and killed 16 children and their teacher before shooting himself dead. The shock was beyond comprehension. All the dead children were aged four or five and as the lists of killed and living were announced, the town and the whole nation were gripped by horror and bewilderment.
It was the second mass killing by a man holding firearms legally. After the firearms restrictions imposed in the wake of the 1987 Hungerford rampage by Michael Ryan, how could Dunblane have happened? A horrified public learned that, although some semi-automatic weapons had been banned, it was still perfectly lawful for people to own military-style handguns.
Pressure for a new ban became irresistible. Soon, Britain had the toughest firearms laws in the West and thousands of pistols were handed in to police. It was of little comfort to the bereaved of Dunblane who bore their grief with a dignity that impressed the world.
March 19. Warnings about a new form of killer brain infection which could be linked to people eating beef from cattle struck by "mad cow disease" were given out by scientists. Ten cases had recently been diagnosed of a new variant of Creutzfeld-Jacob Disease, said the experts. CJD is a rare illness which usually attacks older people. The alarm was raised when it was noted that the latest CJD sufferers were all under 45 years old. The disease attacks the central nervous system and causes dementia and seizures - leading to a painful death.
August 4. Boxing legend Muhammad Ali, now stricken by Parkinson's Disease, got a spontaneous standing ovation at the Olympic Games in Atlanta when he lit the Olympic Flame.
Some notable firsts made these Games in America memorable. Not only were they the first to have been entirely funded privately - they were also unique in being the first where every nation invited to send representatives did so. Unfortunately they were a disappointment for Britain which was way down the medals table with its lowest tally in years.
August 7. It was revealed by NASA scientists in Houston, Texas, that earth may have already been invaded by Martians - 13,000 years ago. Excited boffins unveiled what they believed was new evidence to support the theory. The proof lay in a meteorite found in Antarctica which, when analysed, suggested that the rock was a blast-off from the surface of Mars by an asteroid collision about 16 million years ago. It also contained structures which could be the fossilised remains of a Martian life form.

In brief
March 25. Diane Modahl, the British athlete banned in 1994 after drug tests wrongly showed positive, was cleared.
April 29. At least 34 people were killed by gunman Michael Bryant in Tasmania - making it Australia's worst-ever mass murder.
May 30. In London the Duke and Duchess of York were divorced.
June 15. US jazz singer Ella Fitzgerald died.
July 1. Walsall construction firm, Kendrick Construction, slapped a swearing ban on its building workers to avoid offending passers-by.
July 10. Machete attack suspect, Horrett Campbell, was quizzed by detectives following the attack on children and adults at St Luke's infants school, Blakenhall, Wolverhampton.
July 23. Wolverhampton schoolgirl, Lucy Jordan, aged 13, raised 1,000 to fund cancer treatment just seven weeks after being diagnosed as having the disease.
July 29. A record £15 million fee changed hands when England striker, Alan Shearer, transferred from Blackburn to Newcastle United.
September 21. In the United States same-sex marriages were banned under the new Defence of Marriage Act.
October 1. Black Country brewers, Holt, Plant and Deakin, switched production of their "Entire" bitter from Wolverhampton to Burton-Upon-Trent.
October 11. In Birmingham motorists attending that year's Motor Show at the NEC, were urged to leave their cars at home and use train and bus travel tickets instead.
October 26. A Wolverhampton driver who claimed in court that she was over the alcohol limit because she was on a slimming course was fined £400 by the town's magistrates.
November 5. In the United States Bill Clinton was re-elected as president.