The vegetarian craze and organic farming may appear to be a nineties discovery. But in fact it dates back decades.

A far thinking farmer, David Clement, from Broome Farm, near Stourbridge, decided to go organic in the early thirties - and the first health food shop opened in Birmingham in 1898.

The idea of organic farming germinated in the then 22-year-old Mr Clement's mind in 193l when he joined the Rudolf Steiner Sunfield community for disabled children in Selly Oak, Birmingham.

He had gone straight there from Oxford University and was a great admirer of Steiner's philosophy of bio-dynamic agriculture during a decade of increasing mechanism in farming.

Early the following year Mr Clement, now aged 88, moved with the Sunfield community to their new home in Clent, not far from Broome Farm, which he took over in 1933 to develop his organic ideas which had been fermenting in his mind since 193l.

He decided he was going to grow the best quality food for man and beast. His first move in this direction was to make Broome Farm into a self- contained unit.

He maintained that a farm should be a good balance of the right number of crops and the right number of stock for the land.

"It was like a symphony," he claimed. "We had cattle, sheep, hens geese, pigs, We fed them all ourselves, We didn't buy in any food. It's great to get the right relationship of grassland to arable land and it's a completely fascinating system because every animal lives also on the waste of another animal."

Mr Clement said the farm tried its best to be self-supporting, which no farm did in the thirties. The farm did everything on the basis of what was cheapest.

"But we tried to feed our own animals completely which no one else was doing," said Mr Clement.

He added that he accepted the idea that "nature spirits" were a reality and treated everything in nature with more respect.

He was dealing with spirits as well as physical things.

"The gnomes work upon the roots, the undines upon the leaf and stem of the plant, the sylphs upon the flower and the salamanders on the forming of the seed," he stressed.

His belief was that spiritual beings were life, beings that push the plants up out of the ground. He added that they were difficult to appreciate today because people were far too materialistic in their outlook.

"We imagine that everything is physical but in the old days people experienced them," he went on.

Because of the belief that planets have an influence on all plant growth, in subtle ways, the whole farm had to be a complete organism in itself.

The farm composted all its manure and vegetable matter. "One always strove for harmony on the farm - a feeling of well-being." he said. When there was disease about homeopathic remedies were used on cattle.

David Clement's idea was to supply nourishing organic food to Sunfield's community for disabled children. His approach to farming was influenced by a strong belief in nature spirits.


| | |
| --- | --- |
| | Second division champions, West Bromwich Albion, beat Birmingham 2-1 in the Wembley FA Cup Final in April. Their acheivements were commemmorated on this souvenir scarf. |
Taxi driver fails in licence deception: The importance of NOT being Ernest was brought home to a Wolverhampton taxi driver when he was hauled before the town's stipendiary magistrate for adding an "Ernest" to his single name of "Herbert" when applying for a duplicate lost driving licence.
The taxi man, Herbert Brown, was accused of making a false statement to obtain a licence and driving a car when not licensed.
It was revealed in court in July that during the application for the duplicate licence at a taxation office, the clerk found he had two registered names - Herbert Brown whose licence expired a year previously, and Ernest Herbert Brown whose licence expired in June 1931.
The taxi driver told the clerk, untruthfully, that he was Ernest Brown.
He told the court he had lost his wallet with 26 previous licences in it and didn't known when it expired.
The stipendiary magistrate said that in any event, Mr Brown only stood to gain a shilling or two over the false declaration and let the taxi driver off after hearing that he had once helped the police to catch a burglar.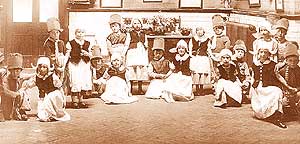 Pupils at Roberts Street School in Upper Gornal Pose for the camera in 1931.
Long skirts, long faces for feminists: West Midlands women, along with many of their sisters in the rest of the country, rebelled against the return of the long skirt. They labelled it as an infringement on their liberty and comfort.
One woman told the National Union of Societies for Equal Citizenship in March that it was no coincidence that women had gained freedom in dress and freedom in politics at the same time.
"When our clothes get long again and our legs are tied up, our minds will suffer," she told the meeting. Despite fashion gurus pushing for the longer skirt, many women still went for the shorter hemline.