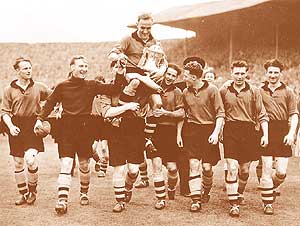 Wolves players chair skipper Billy Wright round Wembley after their Cup triumph.
It was a day of triumph for Wolves after they put three goals past Leicester at Wembley to win the FA Cup on May 2.
Wolverhampton fans went wild as they hailed their conquering heroes while the famous cup was borne in victory to the town hall.
The tremendous welcome home was captured by an Express & Star reporter who wrote: "I am not ashamed to write that as we travelled in one of the three coaches between the Low Level station and the town hall, it was hard to keep a lump from coming into the throat.
"From the balcony of the town hall, all one could see was the vast sea of faces in every direction, and when the Mayor (Alderman H E Lane) brought Billy Wright, clutching the cup, out to face the crowd, there was a roar greater than anything I had heard at Wembley.
"The captain introduced his team one by one ( I don't expect them to make speeches, they are far too shy')."
War hero's tribute to the troops: A 40,000 to 50,000 crowd thronged Whittington Barracks, Lichfield in June, to catch a glimpse of second world war hero, Field Marshall Viscount Montgomery who reviewed the Staffordshire Territorials.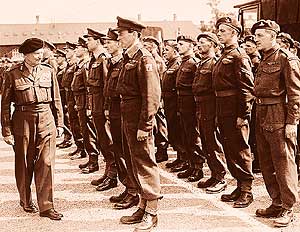 Monty reviews the troops at Whittington Barracks


Monty described the turn-out of the auxiliary force on parade as one of the best he had ever seen. He told them: "I wish there were more like you."
More than 2,000 auxiliary forces members were on parade for Monty who made a point of complimenting the troops on their fine recruiting record.
Royal visit to the show: A 10,000 strong crowd was joined by the Duke and Duchess of Gloucester and the Princess Royal on the first day of the Royal Agricultural Show at Shrewsbury in July.
A miniature town sprang up on the 115 acre site with long stock lines, avenues of trade stands, numerous educational exhibits as well as a separate flower show.
One of the stars was a mammoth pig carrying a thousand pounds of bacon on its trotters.
Simple and wearable . . . Tie-silk was one of the top trends in women's fashions, offering a non-expensive, durable fabric which could be used for day or evening dress.
It also offered a style which was simple and wearable for most occasions.
Comet jets UK into the lead: On July 27 the De Havilland Comet, the world's first jetliner, pioneered by Midlands-educated aviation expert, Frank Whittle, put Britain in the forefront of jet technology when it headed skywards on its maiden flight.
Although America was catching up, the first flight of the Comet - at Hatfield under great secrecy - was a great boost for a Britain still enduring the austerity of rationing.
Cig shortage: Midland folk were the victims of "spivs who are duping the working man" according to Smethwick trade unionists who called in October for an investigation into the uneven post-war supply of cigarettes.
Biggest fire for years destroys valuable oak: Valuable English oak stored for use in rebuilding historic London churches, including the Chapter House at St Paul's Cathedral, went up in smoke in August in Wolverhampton's biggest fire for years.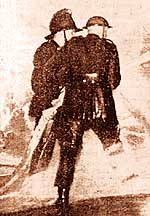 The £20,000 to £30,000 blaze at the timber yard of John S Hickman at Monmore Green took 100 firefighters four hours to bring under control.
Fire chiefs at the scene said about 5,000 tons of trunks, 90 per cent English oak, was destroyed and a derrick worth more than £5,000 was wrecked.
Fire crews arrived at the scene to find a 70ft high stack of trunks covering 100 square yards ablaze.
Police with loudspeakers called for civilian volunteers to help fight the fire.
Experts said the civilian response enabled a machine shop and other buildings to be saved.
A big problem for the fire brigade was that it had to rely on supplies of water from more than a quarter of a mile away from the fire.
Miles of hoses were in use and, for a time, all traffic except trolley buses was stopped on the Bilston-Wolverhampton road.