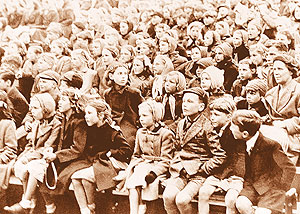 Eyes front - children in Dudley are a picture of attention as they watch a matinee performance of the 1951 Dudley pageant.
In the year when the notorious Soviet spies Burgess and Maclean fled to Russia a row over snooping closer to home hit business and industry across the West Midlands.
An unofficial strike by long-distance lorry drivers based at British Road Services depots in the regions rumbled on over the summer months.
It was not so much a row about spies in the cab - that was to come much later with invention of the tachograph - as about spies outside the cab keeping an eye on what the drivers were doing.
BRS, the recently nationalised company which brought previously privatised road haulage firms under one umbrella, had announced it was to bring in a system of what it called "road patrols"
These were immediately condemned as policemen with a licence to snoop on their colleagues.
The drivers argued that they were trusted by their private enterprise employers before and could not understand why they were not trusted now.
More than 200 drivers at the Jenner Street, Wolverhampton, depot immediately downed tools, appointed a strike committee and formed a picket line.
In Birmingham there was also 100 per cent for the unofficial strike but at depots in Dudley and Walsall some employees continued to handle goods.
The strike fizzled out in the early days of June almost as suddenly as it had started and normal service was quickly resumed.
Roads were not known for overcrowding in those days but there had been an almost eerie quiet on some of the main routes across the West Midlands during the course of the dispute.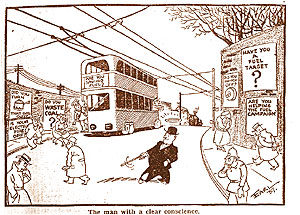 Rationing was coming to an end, but industry needed more coa and householders were asked to be frugal with fuel, as this cartoon illustrates.

Salvationists' citadel burns: Salvationists in Cannock wept and prayed as firemen from the town fought in vain to save their Walhouse Road citadel from burning down.

Only a few months earlier the then huge sum of 400 had been spent on renovations to the citadel which had been built 63 years earlier and was later rebuilt on the same site.

Fire broke out in the stockhole and rapidly spread to the main hall - which proved to be beyond salvation.

All that remained was a tottering side wall but the following day Sunday school services were held as normal amid the rubble.

No to new dentures: It was a year when people were beginning to learn that the new National Health Service's promise of free care from cradle to grave did not cover everything.

On February 9, 1951 the Express & Star reported a case considered by Shropshire Dental Benefit Committee.

A woman explained how she had lost her bottom set of dentures: "I took them out and cannot remember anything about them.

"The only explanation I can give is I think the little dog had picked them up and took them out."

After due deliberation, the committee voted not to grant a free replacement.

People urged to economise: Like the rest of Great Britain the West Midlands, then a key coal producing area, was in the grip of a fuel crisis made worse by the fact it was bitterly cold early in the year.

A fall in coal output had coincided with a big rise in the demands of industry for more fuel.

Official rationing may have been coming to an end as the war receded into the memory but in this area householders were urged to use less and the region's miners asked to produce more.

20-year wait for ring road: Plans for Wolverhampton's ring road - to cost 2 million at 1951 prices - came before a special meeting of the old town council.

Councillors were told that the proposed 90ft wide twin-track road would not be completed for at least 20 years.

There would be nine new roundabouts, considerable demolition of properties that stood in the way and an increased rate burden of between 1s 6d and 2s although this would be eased by government grants.

Fashion fortified the over 40s in the early years of the 50s when it was customary for the list of top 10 best dressed women to be top heavy with those who had passed a certain age. This was no coincidence as these women had developed the grace and poise craved for but not achieved by their younger counterparts, according to the Express & Star's fashion guru of the time.