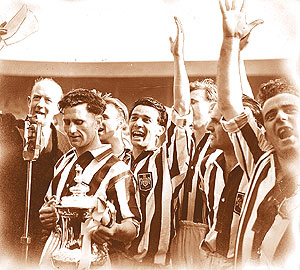 Roger Bannister grabbed one lot of sporting headlines and plaudits when he became the first man in the world to run a mile in less than four minutes.
But for team as opposed to individual efforts nothing could match the achievments of local soccer rivals Wolves and West Bromwich Albion.
It was the Annus Mirablis for West Midlands football with Wolves winning the league and the Baggies the FA Cup.
Either side could have completed the double with Albion finishing in second place in the league while Wolves went out of the cup to another local side, Birmingham City.
Wolves, managed by Stan Cullis and captained by Billy Wright, scored 96 goals as they stormed to their first league title - to be followed by two more at the end of the 1950s.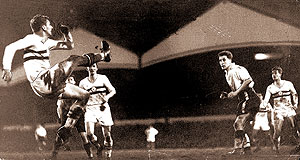 It was the year they also pioneered floodlit football and many legendary encounters included a 4-0 drubbing of Spartak Moscow which was only reported in Russia in a children's comic.

West Bromwich Albion ran neck and neck with Wolves for most of the season but were beaten at the finishing post by their deadliest rivals.

Five days before Bannister's four-minute mile they beat Preston 3-2 at Wembley.

A late goal from Frank Griffin secured a dramatic win after they had been behind. It was to be their last Cup final win until 1968 when they beat Everton 1-0.

Ticket troubles: Sir, As a holder of a season ticket for the Bushbury wing of Waterloo Road stand, I should be interested to hear what the latest "explanation" is for depriving season ticket holders of their regular seats at next week's floodlit match.

Surely Buenos Aires have not applied for their "full quota of tickets".

I may point out that this not a question of souur grapes as my seat is located at the rear of the stand.

Yours Faithfully, Row K.

22 struck by polio: In Walsall 22 people were stricken down with a disease dreaded at the time but which is rarely mentioned these days. The polio epidemic of 1954 attacked toddlers, young children and teenagers in the town and its repercussions were still being felt years later.

In extensive coverage the papers usually referred to it by its two full titles - Poliomyelitis or Infantile Paralysis.

Despite the dire warnings of the crippling effects of the disease few people paid heed to them and it was to be a while yet before mass vaccination took off.

According to the Express & Star fear by both parents and children of anything to do with polio kept them out of the doctor's surgery where serum to immunise them was freely available.

"No More Dancing. No More Sports," screamed the warning posters.

But despite that only 30 per cent of Walsall people - 4,801 out of 16,000 - agreed to be immunised.

Ancestral pile - of rubble! An ancestral pile became a pile of rubble when Teddesley Hall in Staffordshire was demolished after 200 years.

The home of the Littleton family was blasted apart by dynamite although the work by demolition contractors went on for three days.

In its heyday the stately home's house guests had included the Duke of Wellington and Sir Robert Peel, both 19th century prime ministers.

The then Lord Hatherton had found himself the victim of heavy death duties as the house was requisitioned by the government for military purposes during the war.

He had sold it to a local farmer just 18 months before and he decided to retain detached buildings on either side of the main hall for the storage of agricultural produce.

Unfit homes to be cleared: A huge slum clearance programme for the West Midlands, Staffordshire and Shropshire was announced by Minister of Housing Harold Macmillan.

Hundreds of unfit homes across the region were to come down with local councils being given the task of building their replacements, some in the shape of tower blocks.

In the centre of Wolverhampton alone nearly 6,000 homes were classed as sub standard while 3,000 had to come down in Dudley and 800 in Shrewsbury.

Supermac's ministerial briefing identified some areas were it was impossible even to estimate the amount of slum properties involved.

In Walsall it was said to be "quite a job", in Halesowen there would have to be a major survey while a "tentative" survey in Rowley Regis put the figure at around 500.

Waiting list questions: Health waiting lists were as much an issue then as now with questions in the Commons on the plight of a dying Wolverhampton man who could not be found a bed at four local hospitals.