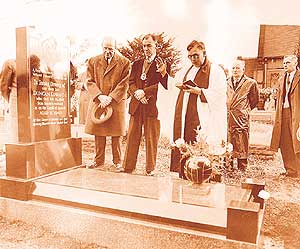 The legendary Sir Matt Busby pays his respects at the grave of Dudley's Duncan Edwards.
It was a year of agony and ecstasy, tragedy and triumph in West Midlands football - and it all happened in a period of just 10 weeks.
On February 6 Dudley's golden boy Duncan Edwards was critically injured in the Munich air disaster which claimed the lives of some of the greatest names in British football at the time and - very nearly - that of their manager Matt Busby.
Manchester United star Edwards was only 21, had already played many times for England and was variously described as a gentle giant and living legend.
What made his death on February 21 so poignant both in his home town of Dudley and his adopted city of Manchester was that he had clung on to life for more than a fortnight and at times appeared to be making a recovery.
A few weeks later Wolves kicked off the most glorious era in their history by winning the league championship.
They had already won it in 1954 and since then had pioneered football under floodlights at their Molineux home against some of the greatest European teams of the day.
1958 was the first year in which Wolves, managed by Stan Cullis and captained by Billy Wright, scored 100 goals in a season. They were to do it in the next three seasons as well.
The boys in black and gold overcame a shaky start to the campaign to race away with the title by five points from runners-up Preston North End.
Average attendances of 37,000 were among the highest in the old first division and more than 55,000 crammed into Molineux for the local derby with West Bromwich Albion.
And the performances of the non first teamers augured well for the furture with the second team winning the Central League and the youth team the FA Youth Cup.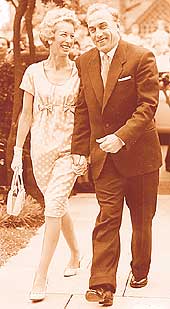 Wedding day Joy for Billy: The Wolves skipper enjoyed his own match of the day later in the summer when Billy Wright married Joy Beverley of the Beverley Sisters singing group.

Nuptials between a star footballer and a popular singer bring to mind David Beckham and Posh Spice more than 40 years later but the Wright approach could not have been more different.

There were strenuous - but unsuccessful - attempts to keep the wedding at Poole in Dorset a secret but the word got out and there was a large contingent of both fans and well-wishers at the ceremony.

One of those fans was one of his youngest.

Little Ann Littlewood, of Sedgley Road, Woodsetton, who was on holiday with her parents, presented the happy couple with a lucky horseshoe before Billy returned to Wolverhampton the following day for pre-season training.

Eye-eye, that's your lot at Cannock: Strong measures against hooliganism at civic restaurants in the Cannock area were being taken by the town's Urban District Council. The council was told at a meeting in November that two men alleged to have caused a disturbance at Cannock had been banned from restaurants in both the town and neighbouring Hednesford.

There was to be no further dancing to music on the juke boxes at the restaurants following reports that girls were being "eyed up" by boys and being made to feel uncomfortable.

"Unseemly incidents have been reported but it has been difficult to get people to give evidence in court," Councillor Mrs E Jones revealed.

Gutter humour is no joke for council: The streets of Wolverhampton were branded the dirtiest and untidiest in the West Midlands by local councillor E Mitchell who claimed, possibly with unintended humour, that the town's latest street cleaning machines were fit only for the gutter.

Attention to the gutters meant that rubbish was getting piled up on the pavement, said Councillor Mitchell. But his comments provoked disagreement from other members of the council's public works committee.

"It is news to me that our streets and footpaths are on the dirty side," said committee vice chairman Councillor J Hale. "Compared with some towns in the Midlands they are not bad at all."

We were guinea pigs says former test observer: During the 1950s thousands of British servicemen were "observers" at nuclear-bomb tests in the South Pacific. Ted Bagnall of Bilston was on Christmas Island during four detonations. He recalled:

"About 1,000 of us were taken down to the beach. We were given no protection at all. We were wearing standard khaki shorts and shirts and were sat down, a fair distance away.

"We were told over the address system to cover our eyes. This was in the Pacific, in the midday sun, which was really bright. But when that bomb flashed, the sun was as dull as the moon. When the flash came, you could see all the bones in your hands through your closed eyes. I have had skin problems for years. I am sure we were used as guinea pigs. There is no way that kind of thing would be done today."