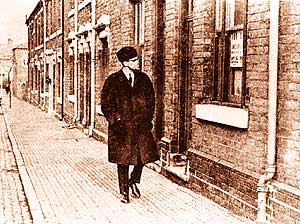 Malcolm X walking in Marshall Street, Smethwick, from the front page of the Express & Star on February 12 1965.

It was the year that several world figures were laid to rest including wartime PM Sir Winston Churchill.

Also on the grim reaper's list in 1965 was American Black Power leader Malcolm X who was murdered just days after visiting the West Midlands in February of that year.

He toured Smethwick, a town which had become a byword for racism during the General Election a few months earlier when the successful Tory candidate bluntly told voters: "If you want a nigger for a neighbour, vote Labour."

The slogan proved effective and Peter Griffiths swept into Parliament having ousted Patrick Gordon Walker, exepcted to be Foreign Secretary in the new administration, from the seat.

Malcolm X was accused of strirring up an issue which had quitened down since the election and he came straight to the point.

"I have come here because I am disturbed by reports that coloured people in Smethwick are being treated badly," he told the Press.

"I have heard they are being treated as the Jews under Hitler. I would not wait for the fascist element in Smethwick to erect gas ovens."

Malcolm X strolled down the then notorious Marhsall Street where white residents had persuaded the Tory-run local council to buy any houses which came up for sale and sell them to white families only.

He had a pint in a pub which did not operate a colour bar, gave several interviews and then returned to New York where he was shot dead nine days later.

In the 1990s they made a film about him but it did not feature Smethwick.

'Passing reference' causes row: Malcom X had been accused by his critics - and there were many - of trying to weigh up a complex situation in half an hour.

The same accusation was levelled on the same day against travel writer Nicholas Wollaston who stirred up a hornet's nest by describing Wolverhampton as the ugliest town he could remember.

A slim volume of essays on British towns called "Winter In England" was the book which sparked the controversy.

Like many remarks which generate much fuss and offence this one was merely a passing reference.

Wolverhampton was not one of the towns featured in the book and the evidence came from a half hour wait for a bus to Bridgnorth.

After branding the town the ugliest he could remember he went on to describe some of its features including a "disgusting canal with scum in the corner" and a centre which was just a "facade for endless factories".

Amid the row that followed Wollaston recived some muted applause with Civic Society secretary Cecil Tragen commenting: "Parts of the town should be a jolly sight better than they are."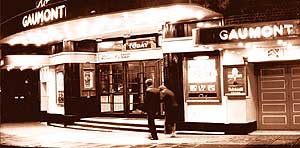 Turn back the clock to August 1965 and business is booming at Wolverhampton's Gaumont Cinema, long since replaced by a store. Showing tonight are Mr Moses, starring Robert Mitchum and Carroll Baker.

Flooding hits Black Country: Torrential rain brought serious flooding to the Black Country on the night of September 8.

Traffic was disrupted, livestock put in danger, scores of cellars flooded and considerable damage to property caused.

Around 40,000 tons of water had to be pumped from the Tividale factory Idoson Motor Cylinders and "Operation Noah's Ark" was launched at Wednesfield to save 60 pigs from drowning.

The wettest September day in the West Midlands for 30 years threatened the bridge spanning the construction of the M6 extension at Bloxwich Lane and Bentley Lane, Walsall, with millions of gallons of water pouring into the foundations.

Wolverhampton goes one way . . . The bane of many a motorist's life, the Wolverhampton one-way system, first opened on October 18.

At the same time the Piper's Row multi-storey car park - later to collapse dramatically on the eve of a visit by Prince Charles to the town - brought the town's motorists their first taste of electronic car parking.

The one-way system coped pretty well with its first big test although there were some delays before 9am on that first Monday morning.

Failure to get into the correct lane in time - esoecially in Princess Street - seemed the greatest problem for car drivers although there were scores of police officers on duty from the early hours of the morning to put them right.

Bus passengers were not as lucky even though their drivers had been given a sneak preview of the system the previous afternoon.

It turned out to be a different story altogether when they found themselves caught up with hundreds of motorists using the system for the first time.

Delays of 20 minutes were recorded on services coming in from Wednesfield and of 12 minutes on buses coming in from Walsall.

"In some instances there have been considerable delays where we would have thought it would have gone like colckwork," said the borough engineer Mr H Schofield.