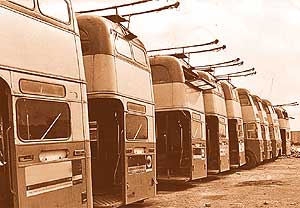 The last of Wolverhampton's trolley buses waiting to be broken up on a piece of ground off Bilston Road, Wolverhampton in March 1967.
In the year that speedster Donald Campbell was killed in a jet-powered boat in the Lake District it was also rest in peace for a more sedate mode of transport in Wolverhampton.
It was the end of the line for the town's trolley buses as the very last one - the number 446 - whispered its way into history when it made its sad farewell journey from Wolverhampton to Dudley and back.
It was a sad weekend for the region's transport bosses as only a few hours earlier the very last Pullman train from London Paddington had pulled into wolverhampton's Low Level station.
There had been protests about the demise of the trolley buses which had run in Wolverhampton for 43 years and which were to continue in Walsall for five more years.
The end when it came was quiet enough although an extra service had to be laid on to cater for a larger than usual number of passengers who had turned up for the ride late on a cold Sunday night.
Trolley number 446 pulled up at the Celveland Road depot shortly before midnight on March 5, its overhead arms were quickly tweaked away from the life-giving wires and it was promptly towed away to trolley bus knackers' yard at Bilston Road.
Next day the Express & Star commented: "It is unlikely it is the end of electric public transport on the roads. It is too good an idea for that."
Disaster-hit family get new home in Rugeley: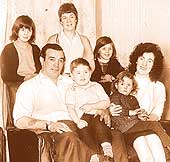 The Llewellyn family - Mr and Mrs William Llewellyn with children, from left: Angela (11), Theresa (15), Christina (eight), Steven (three) and Deborah (two).
A family caught up in the nightmare of the Aberfan disaster the year before moved to Staffordshire to start a new life in the mining community of Rugeley.
William and Christina Llewellyn and their six children aged between three and 15 were offered a house by Rugeley Council following an approach from the Mayor of Merthyr Tydfil to the local miners' union lodge.
The family had survived the disaster in which 100 children and 28 adults were killed when a coal tip collapsed and buried a school under thouands of tons of slag and slurry.
At one time it had been feared Rosemary Llewellyn had been killed in the carnage but she had passed by minutes before the collapse and was suffering from shock when found by her older sister.
Both girls had been transferred from the doomed school just a few months before the tragedy and even before it they were discussing a move to the Midlands where they had family.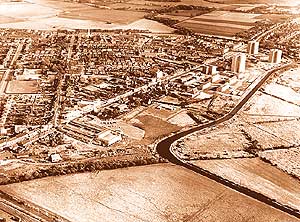 Brownhills from the air, January 1967.


Explosion rocks big Oldbury factory: Shock waves and flashes could be seen over a radius of more than 10 miles when a giant explosion rocked the Allbright and Wilson chemical factory in Oldbury.

Fire engines from Oldbury, Smethwick, West Bromwich, Dudley, Old Hill and Birmingham were called to the factory in Trinity Road on a morning in early March.

Damage covered a 12,000 sq ft area, walls were blown down and twisted debris was thrown several hundreds of feet around the area.

The build-up of pressure in a tank containing 400 gallons is thought to have caused the blast.

In the spotlight! A petite Parisian called Sylvie Buat-Menard, who was on holiday in Wolverhampton, found herself suddenly in the spotlight as a fashion model.

Sylvie, a 20-year-old student had been staying at the home of Dr and Mrs Marshall in Albert Road where she was brushing up on her conservational English.

She was invited to model in in a show at Codsall village hall having never before set foot on a catwalk.

Her English was good enough for her to tell reporters: "I had never modelled before and was nervous but now I think I would like to do it again."