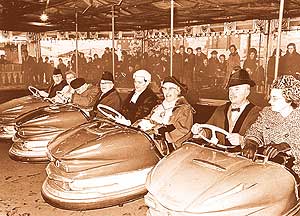 No, it's not the latest in civic limos. but the Mayor of Lichfield, Alice Millard and other civic leaders on the dodgems at 1970's Shrovetide Fair.
It was the year of Hello, Goodbye in Midlands politics as that summer's General Election produced one of the biggest upsets of the century.
Harold Wilson was odds-on to make it three in a row after victories in 1964 and 1966 but it was Edward Heath for the Tories who gained the keys to 10 Downing Street for the next four years.
It was defeat not just for the government but also for the pollsters who had unanimously predicted a Labour victory.
The Midlands proved to be a key battleground and some of the biggest upsets of a dramatic night were seen here.
None more so than at Cannock where Jennie Lee, arts minister and widow of the darling of the left Nye Bevan, lost the seat she had held since the war.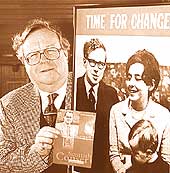 Patrick Cormack with his
election poster from 1979

Miss Lee, defending a majority of more than 11,000, lost after a recount to school teacher Patrick Cormack (right) who held the seat for just one term before moving to a neighbouring constituency.

Also out were Wrekin MP Gerry Fowler, a Minister of State at the Department of Education and Science, while there were severe dents in the majorities of two Labour cabinet ministers with Midland seats - Chancellor of the Excehquer Roy Jenkins at Birmingham Stetchford and Minister of Sport Denis Howell at Birmingham Small Heath.

Newcomers inluced John Stokes at Oldbury and Stourbridge - which went Tory for the first time - and Major General Jack Goldsmid at Lichfield which went Tory for the first time since 1924.

His predecessor had been Julian Snow who announced some time before that he was standing down. Among the future Lord Burntwood's many claims to fame were that he had been the tallest MP in the previous parliament.

The huge increase in the Tory vote locally was said to be down to Enoch Powell's views on immigration. He held his seat at Wolverhampton South-West where scuffles broke out at the count.

Topless portrait shock for Mary: Bewdley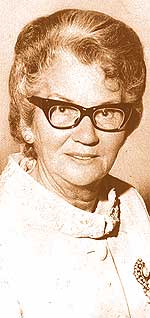 Mary Whitehouse

housewife Mary Whitehouse, who had launched a "Clean Up TV" campaign some years before, proved to be a sell-out - as an unwitting nude model.

Artist Lawrence Isherwood, notorious in the early 70s for painting nude portraits of the famous from his imagination and without their permission, included Mrs Whitehouse in her works.

He sold out of copies of the painting within hours but, perhaps not surprisingly, his "model" was less than amused.

"I am not in the least bit interested as I have far more important things to worry about at the moment," she said.

"I had heard about the portrait but I think it is just a publicity stunt.

"I know nothing of the artist and certainly don't intend to go chasing around to get a copy of the picture."

It is not known if any copies still exist.

No milk today . . . An estimated 100,000 Black Country housewives went without their pinta as nearly 100,000 Midland Counties Dairy workers staged a lightning strike on March 26.

All milk deliveries were halted for the day and with the inside workers at the main bottling plant in Wolverhampton on strike as well the outlook was bleak.

Housewives were told to collect their own milk at the depots and queues formed early on.

Volunteers from among the strikers - who were taking industrial action over a wage claim - maintained deliveries to hospitals and old people'e homes.

Despite the strike old folk served by the WRVS meals-on-wheels service were getting a delivery - thanks to emergency stocks of dried milk.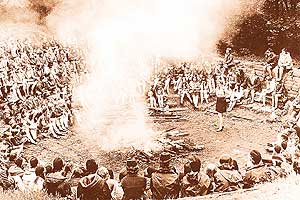 Conditions may have been damp, but there was no doubting the enthusiasm of the girl guides gathered at the Staffordshire Diamond Jubilee camp at Beau Desert in August

Explosion blasts roof: Three people were taken to hospital with either burns or shock when an explosion blew the roof off Dawley Brook Papers, Stallings Lane, Kingswinford.

Flames shot through the building, where there had been a suspected gas leak, and police were forced to close the road outside at both ends.

The injured were David Jackson, aged 27, of Western Road, Stourbridge, Robin Cheadle, aged 29, of Richmond Grove, Wollaston, and Mrs Pauline Everson, also 29, of Coniston Drive, Kingswinford.

The explosion shattered windows in the neighbouring Swan service station and the owners of a nearby grocer's, Peter Preece, said: "The whole shop shook."