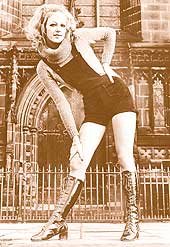 Some like them hot -
18-year
old Lynne Foster from Brewood
worked in a boutique in
Wolverhampton's Mander
Centre. She's modelling hot
pants, the very latest fashion must.
It was the year of decimal coinage, the postal strike and hot pants.
In the West Midlands striking postal workers - taking industrial action for the first time in their history - found themselves the victim of their own industrial action when they had to rely on a "pony express" style service to get hardship pay cheques to them from strike headquarters in London.
Cheques started to arrive at 2am and were taken to the banks as soon as they opened to be cashed.
The union had no strike fund and relied to a large extent on their comrades in other unions like the Stoke-on-Trent Ceramic and Allied Workers Union who sent 2,000 to help the families of striking postal staff in the Lichfield and Cannock areas.
The shortage of mail never seemed to bite in the way that union leader Tom Jackson had expected although the closure of post offices had more severe repercussions particularly for motorists trying to renew their car tax.
Although some offices defied the strike and remained open - including Horseley Fields in Wolverhampton and willenhall - hard-pressed drivers in neighbouring areas were told they were able to renew only in their own areas.
Groups at opposite ends of the age spectrum found themselves particularly badly affected: The elderly, in some cases, found they could not pick up their pensions while students faced an even more anxious and longer wait than normal to hear if they had managed to get into the university of their choice.
It's RIP for LSD!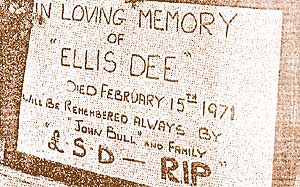 In loving memory of the" Old" money.
February 15 1971 was dubbed "D-day" when decimal coinage replaced the much-lamented pounds, shillings and pence, often confusingly referred to as LSD, as the coinage of the realm.
For the first few months shoppers and shopkeepers referred to decimal money in full as in: "That will be 10 new pence please."
The new money quickly became a way of life although some found it harder to adapt than others and even at the end of the decade you could still hear the odd cry of anguish from shoppers who could not understand "this new money".
In Wolverhampton children on their half-term holiday were said to be "knocking the pants off adults in thinking decimal" much as they would a few years later with computers.
A mock gravestone in loving memory of Ellis Dee (sd. Geddit?) appeared outside Charnell's fish and chip shop in Bilbrook. The writer Pam Charnell said it expressed the views of most of her customers on the sad demise of the old money.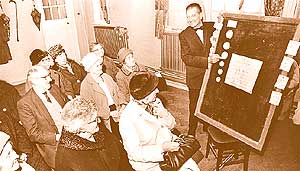 Joe Sadler explains the "new money" to Kate's Hill Darby and Joan club, Dudley

Road rage nothing new: That road rage was not a phenomenon of the 1990s was revealed in a front page article in the Express & Star in May of this year.

A Wolverhampton man got out of his car at traffic lights and hit another driver in the face, the town's deputy stipendiary magistrate was told.

The victim had a broken tooth and a cut that needed several stitches, the court was told.

The aggressor pleaded guilty and said the other driver had driven in front of him forcing him to brake sharply.

"At the Coalway Road junction I saw him put his fingers up and this made me even more mad but I only hit him once," he said.

The 21-year-old was given a three-month suspended prison sentence and fined 25 with 10 costs.

Big day for flier James and the regal eagle: Who's that with Flying Officer James Giles ?

Flier James from Wolverhampton and Golden Eagle - military codeword of the day for HRH Prince Charles Prince of Wales - got their wings when they passed out together from the RAF College Cranwell watched by the Duke of Edinburgh.

The Royal serviceman and James Giles, from Woodhall Road, Wolverhampton, found themselves thrust together when they were picked to share quarters at the college.

They had been good friends during the prince's shortened four-month stay at the college although it is not known if they have kept in touch since.

The future history of the Prince of Wales was to be well documented but its not known what happened to James Giles.

Except that is for the very next next day when he completed a busy week in his life by getting married.