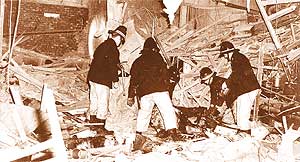 Firemen search the wreckage of the Birmingham pub bombings
On November 21 Birmingham was rocked to its roots with shock and horror as two massive blasts wrecked pubs in the town centre, killing 19 people, and injuring nearly 200 in a massive IRA bombing attack.
The bombs exploded in the popular Mulberry Bush and Tavern in the Town at a time when both inns were packed with young people enjoying a night out.
The first warning police had of the horror to come was at 8.l4pm when a man with an Irish accent telephoned a city newspaper saying there was a bomb in the 17-storey Rotunda office block which housed the Mulberry Bush pub.
Two minutes later the horror started.
Hard on the heels of the Mulberry Bush bombing came the second blast at the Tavern in the Town and death and injury took their toll of the young casualties - aged between 18 and 25 years.
As Birmingham counted the cost of lost young lives rescue teams and emergency services quickly raced to the scene of devastation. Within hours police were able to establish that the bombs were placed inside the pubs. The double outrage was the worst so far in a long campaign by the IRA across mainland Britain.
But a short while after these atrocities, as the city reeled with the shock of it all, bomb disposal experts rushed to Ladywood, in a Birmingham suburb, following a report that a suspicious parcel had been found in a doorway. The experts diffused two parcels saying they were "quite large ones."
Then, shortly before midnight, a petrol bomb was thrown at a house in Witton Road, in the city, but luckily caused no damage. Every available ambulance in the area was utilised after the blasts - and taxi drivers helped by ferrying many of the injured to hospital.
The West Midlands deputy Chief Constable, Colin Gaskell, described the carnage as "appalling".
Earlier 1,000 police had mounted a security operation at Birmingham airport before the removal of dead Coventry bomber, James McDade, to Dublin.
The Birmingham blasts were revenge following a ban on a funeral being held in the region for McDade, who had been killed a week before while planting a bomb in Coventry city centre.
Just days after the Birmingham carnage, a 500-strong crowd had to be held back by police as six men appeared at the city's Victoria Law Courts charged with the murder of a girl killed in one of the bomb blasts. Armed police were on duty in and around the courts.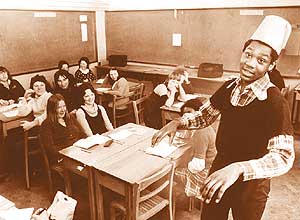 On the road to stardom - 16-year-old Lenny Henry entertains classmates at Dudley's Bluecoat School after hearing he had won a spot on TV's New Faces talent show, so launching a career which went from strength to strength

Powell's shock 'vote labour' call to voters: Former Wolverhampton Tory MP, Enoch Powell, made waves in Birmingham when he erupted on the Election scene in February with a "Vote Labour" message.

The message, said by some to be strong enough to either destroy the Heath Government or Powell himself politically, was launched in the city's Bull Ring Centre at a public meeting.

The Conservative rebel said the over-riding issue of the election must be to save Britain from being swallowed by a European super-state.

The message was wrapped up in an "elegant cotton-wool of words," it was reported - but there was no doubt about its meaning. The meeting was organised by the "Get Britain Out of The Common Market" campaign which urged Tories to vote Labour.

Poster accused Edward Heath of pro-European conviction, said to conform to Mr Powell's "political contempt" for Mr Heath whom he accused of "one long epic of deception" over the Common Market.

An Express & Star political journalist said Powell's efforts to make the Common Market a major issue of the campaign was a personal gamble. It could mean his own political suicide.

Mr Powell gave a clue to his dramatic move in Birmingham with the words: "If there be a conflict between the call of the country and that of the party, the call of the country must come first."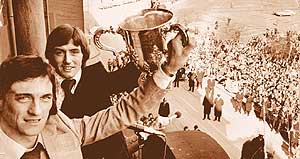 Goalscoring heroes Kenny Hibbitt (left) and John Richards hold up the League Cup for the fans after Wolves' 2-1 victory over Manchester City at Wembley in March.

Strike hits oil supply: Hundreds of West Midland garages were expected to run out of petrol in April because of a strike by loaders at the Kingsbury oil terminal at Tamworth.

Local deliveries of fuel were not being made and 30 men employed by Warwickshire Oil Storage had gone on strike because they wanted an increase in shift payments.

Amoco garages in the region had already been hit by a strike by administration staff, fitters and mechanics and some garages had not had any deliveries since before Easter.

Amoco, which supplied 52 garages in the Midlands, said the latest dispute by loaders was the last straw.

And Shell warned that motorists could be paying 60p a gallon for fuel before the year's end.

It was also claimed that other oil prices for power and heating may be raised again because of rises in the cost of Middle East crude oil in the pipeline.

Leo the lover: Panto star Leo the lion had his contract curtailed in February after his amorous activities on stage at Wolverhampton's Grand Theatre caused a few red faces in the audience.

The big cat Casanova was sent home in disgrace, but with a twinkle in his eye. Because it was later discovered that the two lionesses in the panto were expecting.

Leo originally appeared in a jungle scene with the lionesses in the theatre's production of Robinson Crusoe.

But he was banished to his circus home in Peterborough after his feelings for one of his female co-stars got the better of him during a performance.

And it was all too late for Lena and Julie, the two lionesses who fell for Leo's fatal charm. The animals' trainer, reported that the two female big cats would be giving birth within four weeks.

Nightclub owner denies racism: Wolverhampton night club owner, Cliff Spence, found himself caught up in a race row in April after claims that he was operating a colour bar.

But he spoke out against the alleged racial discrimination at his six-month-old Noddy's Nite Spot in Piper's Row.

The Race Relations Board in Birmingham said that two complaints had been received about the club, but Mr Spence strongly denied the claims.

"If any West Indian thinks I am practising racialism that is utter bunkum," he said.

"I know nothing about anyone being turned away because they are coloured.

"Blacks and whites have been turned away, but because they were undesirables."

Mr Spence went on: "It's ridiculous to say I have been practising racialism."

But coloured nightclubbers in Wolverhampton threatened to boycott Noddy's when it re-opened under its new name of New Club 67.

Molineux men bring back the League Cup : Goalscoring heroes Kenny Hibbitt (left) and John Richards hold up the League Cup for the fans after Wolves' 2-1 victory over Manchester City at Wembley in March.