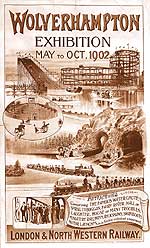 The Duke of Connaught and Strathearn arrives in Wolverhampton on the Royal Train to open the town's art and industrial exhibition in West Park on his 52nd birthday.

The idea for the massive celebration of the Black Country's industrial power was first mooted in November 1900. It features giant halls dedicated to machinery, a Canadian pavilion and a concert hall.

In the first month of opening more than 245,000 people flock to the exhibition and enjoy rides on attractions including a mountain railway on timbers, a mile-long fairy river, a 100ft high Canadian water chute and the hall of laughter.

The Earl of Dartmouth described the exhibition as "the awakening of Wolverhampton."

Attendances top one million by the end of August and 1.5 million by the end of the exhibition in November.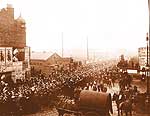 Soldiers home from the war (left) Soldiers parade through the streets of Wolverhampton

Gamblers arrested in raids: In April Police arrested 33 people in simultaneous raids on two pubs in Blackheath and Cradley Heath to crack down on an illegal horse racing gambling ring.

Large crowds gathered at Old Hill police station as a special court was held to deal with those arrested.

The 30 officers involved in the operation recover betting slips and documents from the Bull's Head, Oldbury Road, Blackheath and the Railway Hotel, Cradley Heath.

Six hit by fumes from pub cellar: Six people were knocked unconscious in January by gas fumes in the cellar of a Stourbridge pub.

Licensee Moses Welch was first overcome by the carbonic acid gas given off by the fermentation process in the brewing area at the Noah's Ark Inn, Enville Street.

His wife, a local butcher and three other men who attempt to rescue him also collapsed.

A policemen was finally able to open the cellar doors and rescuers used ropes to pull the six unconscious victims out. All make a good recovery.

King Edward VII and Queen Alexandra were crowned at Westminster Abbey in August in a ceremony that had been postponed because of the king's illness. A salute was fired at the Wolverhampton exhibition after a celebratory feast for 20,000 borough children. There was a firework display at Dudley Castle and a feast for 1,500 old people and 16,000 children and a distribution of coronation medals.

Emma Earp, aged 38, of Phillip Street, Wolverhampton, died in the town's general hospital in November from burns after she was found in the street enveloped in flames from head to waist. Her husband Joseph was found at home drunk with the remains of a broken paraffin lamp and before her death his wife told police he threw it at her.

On December 4 at Stafford crown court Joseph Earp was found not guilty of murder after he told the court he was too drunk on rum and aniseed to remember anything.

Royal first: In May Prince Christian was the first member of the Royal family to visit Walsall in living memory as he laid the foundation stone for the town's new municipal building.