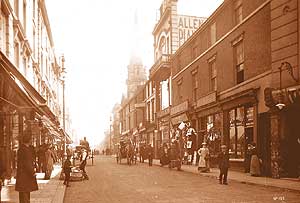 This turn-of-the-century view of Queen Street, Wolverhampton shows a typical Victorian scene of hansom cabs, family shops and passers-by in top hats, flat caps and ground-length skirts. And rising above it all, the spire of Queen Street Congregational Church, a landmark for generations until it was demolished in 1971.

Keith Cattell, church secretary at the time it was knocked down, recalls the building he loved:

"The first church on the site was built in 1813 on a garden plot at the corner of Queen Street and Market Street.

"By the early 1860s, the church had outgrown itself and George Bidlake, Wolverhampton's leading architect, was asked to design a much grander building in a "Free Italian" style, the foundation stone being laid in June 1864. The church was demolished in 1971 long after its honey-coloured sandstone had blackened with age. Internally, it was surprisingly large, bright and colourful, but it was also memorable for its incidental features.

"Built before modern intercom systems existed, it had a naval-type speaking tube connecting the entrance lobby to the pulpit to inform the minister of the arrival of bridal or funeral parties or even mayoral processions; nine mayors of Wolverhampton were members of the church at various times.

"Built into the basement of the steeple was a soup kitchen with direct access into Queen Street and containing a boiler large enough to hold a whole sheep.

"In 1939, the church's large basement was heavily reinforced with steelwork and thick blast walls to provide an emergency air raid shelter for about 500 people, fortunately never required.

"Religious discipline in the early 19th century was rigorous; one church member was expelled because she had been seen entering that offshoot of Satan's realm - the local theatre.

A family of eight suffered the same fate because they had held a family dance in their own home!

"The site of the church is now occupied by the local Jobcentre. Just after it was built, a rumour circulated that it was haunted; maybe the indignant spirit of one of the thousands of deceased church members, or perhaps some poor chap who never found a job and still came to read the job notices even after his demise!"

As we were saying . . . In the year of the first powered flight a prescient Express & Star new year editorial predicted: "Then there is the development of locomotion.

"The motor car is still to be made available even for the middle class and dirigible balloons represent only the chrysalis stage of the flying machine.

"They have taught us much however in regard to aerial navigation.

"These are only some of the subjects with which men of genius are wrestling.

"Others may be feeling their way along paths entirely of their own making.

"It may be a dull time for poetry and literature, but the rising generation is on the tiptoe of expectancy for revelation of the triumphs of laboratory and workshop.

"Something should come this year."

Buffalo Bill robbed - and the valet did it: In June Colonel "Buffalo Bill" Cody was sensationally robbed of his jewels when he brought his Wild West Show to Dudley.

Despite the theft of the valuables, including a pen with diamonds presented by King Edward VII, the show, which featured 800 people and 500 horses went on to play before 20,000 people at Dunstall Park, Wolverhampton, the next day.

Within days Cody's valet William Prizey was arrested in Kensington and the jewels worth 350 and he was brought back to Dudley where magistrates jailed him for six months for theft.

Homes not fit for heroes: Dudley borough medical officer Dr J H Wilkinson reported several fresh cases of typhoid stemming from two pubs where a soldier sent home from the Boer War had been drinking with friends. The Express & Star advised in January that for safety people should refrain from the custom of drinking from the same cup with returning heroes. In a separate report housing problems in Wolverhampton were detailed. More than 1,000 houses were slums on all sides of the town with 51 reported to be unsanitary. In the slums people lived at 384 to the acre.

Locksmiths strike over: January 7 - At meetings in Willenhall and Wolverhampton locksmiths, who had been on strike for 11 weeks, agreed to return to work on January 12. The agreement with the masters involves the creation of a wages board with an independent chairman to consider the strikers' demand for a 10 per cent increase in pay. The Express & Star said the strike was conducted in "a fair and honourable manner".

Bradley boiler explodes: January 20 - A boiler explosion in the No 2 mill at Tupper & Co's Batman's Hill ironworks at Bradley killed mill manager James Warren and engine driver Harry Southall instantly. Another 13 were injured with furnaceman Richard Cooper and roller Edward Holloway died in hospital. Thousands of people trekked to Bradley to view the devastation and a collection was made in the street for the families of the bereaved.

Local boys make good: February 14 - England beat Ireland 4-0 in a football international at Wolverhampton's Molineux Grounds watched by a crowd of 12,000. The winning team featured Wolverhampton Wanderers' goalkeeper Baddeley and first division leaders West Bromwich Albion's left half Hadley.

Wednesbury murder: February 17 - A child murder at Wednesbury. Tube welder Richard Cartwright was arrested for the murder of his 16-month-old daughter Mary at their Elwell Street home. Cartwright's wife returned home after being sent out to buy a half pint of beer to find the girl's throat had been cut.

Leno jokes with Mayor: April 3 - Comedian Dan Leno visited Dudley to lay one of the foundation stones for the new 6,000 2,000-seat Empire Palace of the Varieties in Hall Street. After the Mayor, Councillor John Hughes, laid the first stone he joked: "If I lay mine crooked after that down comes the show." His stone contained a bottle with a copy of the day's Express & Star inside and a coin thrown in by Leno.

Council's tram switch: May 20 - Wolverhampton Town Council voted 28-17 after three days of lengthy debate not to go ahead with the experimental Lorain electric traction system for trams in the town and instead go for the upright posts and overhead wires system in use in neighbouring towns. On September 12 in a private session the council reversed the decision.

'Horrible murder': August 15 - A horrible murder was reported at Bankfield Road, Bilston, where James Cartwright , aged 32, attacked his common-law wife Mary Ann Pumphrey forcing her to run out of the house naked. Cartwright, who was said to have shown earlier signs of insanity then smashed in the heads of their three children with a gunstock. He fought police like a maniac before being arrested and charged. Cartwright was detained at the king's pleasure.

Mystery horse maiming: November 4 - The Express & Star reported a mysterious case of horse maiming at Four Ashes. A letter to the editor claimed it was the work of a secret gang who threatened to strike at horses in Wolverhampton, Bilston and Tettenhall and warned people to mind their horses and taunted the police. Just two weeks before, vicar's son and solicitor Ernest Edjali, aged 28, had been convicted of killing a horse at Great Wyrley on August 17. A series of attacks on horses occurred in the area before and after the trial and a campaign started protesting Edjali's innocence. A 2,000 name petition was sent to the Home Secretary.