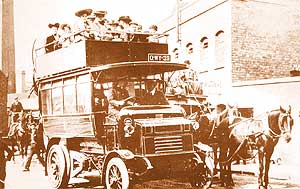 The first motor omnibus in Wolverhampton pushes its way past the traditional horsedrawn version

A young Coseley chemist, T H Gittens claimed in January to have found a cure for cancer.

The Roseville chemist told the Express & Star he had discovered the secret that has defeated leading scientists for years.

He claimed to have found a complicated application of drugs which was successful with people with cancer in their 70s and 80s.

He was confident he would become one of the most famous people in the country.

Following the article Mr Gittens was deluged with letters from Express & Star readers.

He repeated his claims and pledged to voluntarily do 20 years in jail if he did not cure cancer.

Arthur's a Brighter copper: A report in August read: "Police constable Arthur Bright, of the Wolverhampton police force, is an intelligent young officer. On Thursday night two youths came up to him and said they had no money and wanted a night's lodging. "This was a peculiar question to ask a constable and the officer. being of an accommodating turn of mind, thought that perhaps he might help these nocturnal wanderers so he brought his powers of observation into play and noticed that one man was wearing a regimental shirt and the other a pair of soldier's boots. The unfortunates had their night's lodging for Arthur arrested them both for having deserted from His Majesty's services and took them to the station. "Prisoners admitted that they had deserted from the Welsh Fusiliers at Wrexham, having previously thrown their uniforms over the barrack's wall.-"The two, John Podmore and John Henry Hilsey, were remanded by the Stipendiary for an escort."

Dudley boy's escapade: November 15 - (From our own correspondent) "I am going to Blackpool for a donkey ride," said a boy of weight named Harry Jones, of Dudley, who was removed from the Euston to Scotland express upon arrival at Preston this morning.

He said he had broken open his money box and run away from home and knew no one in Blackpool.

The railway officials deemed it advisable to hand him over to the local police and his parents being communicated with he was sent back home.

The curious case of the Rugeley onion: From the Express & Star in April: "Mr S.W. Morgan (deputy coroner) inquired on Thursday into the circumstances of a somewhat curious death. A man named John Clews, a carter, aged fifty-six, who lived at Armitage, near Rugeley, had supper on Monday night consisting of bread and cheese, a glass of beer, pickled onions and cauliflour. He went to bed at 11 o'clock but was found dead next morning.

"Dr Chapman who made a post mortem examination of the body of the deceased said he found the stomach very much dilated and congested. He came across the onion (produced) in a whole condition in the small bowel which completely stopped the passage. The result was that the stomach and that portion of the bowel were inflated with wind which pressing on the heart had gradually stopped its beating."

Homes slide: The residents of three handsome villas at John Street, Round Oak, were woken in September by a "terrible grating noise" to find part of the ground floors have collapsed into a 100 to 150-yard deep mine shaft. Miraculously no one was injured, but the houses - The Mount, The Beeches and The Limes - were extensively damaged. The villas had been built on a pit bank above worked out coal seams that were once mined from pits owned by the Earl of Dudley.

The Express & Star reported five cases of smallpox being discovered in Brunswick Street, Wolverhampton in June. The five patients - all from the same family - were taken to the town's infectious diseases hospital. Another three cases were reported at a pub in Dudley Road where the tenant's wife and two children were infected. A servant at the pub was discovered to be related to the Brunswick Street family.

"Dancing furniture" was reported in Stafford as an earthquake hit Staffordshire in July. People enjoying their Sunday afternoon nap were woken by a loud rumbling noise and household furniture moving in a sudden and violent manner.

In November, Enville Hall, near Stourbridge, was gutted in a huge blaze that broke out at the seat of the Countess of Stamford and Warrington. A housekeeper discovered the fire and estate workers tackled the flames until a cyclist pedalled along icy roads to Stourbridge to raise the fire brigade. Firemen spent more than six hours fighting the fire, but could not prevent the beautiful building from being left in smouldering ruins. Pictures, books and furniture rescued from the flames were left strewn over the lawns.